Sozo Global Aquires New Technology
April 16, 2015
By Team Business For Home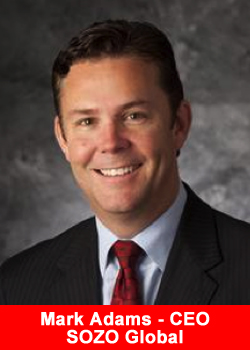 SOZO Global, Inc., an entrepreneurial direct selling company headquartered in Austin, Texas, USA acquires the exclusive global rights to distribute the Meridium® product from Bioactives Inc. within the direct selling industry.
SOZO is a healthy products company that is a curator of best-in-class nutritional technologies. Since its inception it has cultivated ingredients to formulate products grounded in science with powerful health-protective properties to help you live a fuller, more youthful life. The next addition to the global product line of SOZO is a 100% natural ingredient that has been clinically shown to have multiple health benefits – Lucedin™ xanthohumol.
Just like SOZO went to the source of the coffee fruit to get CoffeeBerry® extract, SOZO goes inside of a humulus lupulus plant to extract the xanthohumol ingredient. This ingredient works at the genetic level to support metabolism and overall health. Its cellular protective effects make it an excellent addition to the nutritional products vertical of the SOZO line. Xanthohumol which is sometimes called the "GOLDEN ELIXIR" has been shown through numerous clinical studies to be effective in the form of a liquid that can be absorbed.
The liquid can be added to water, or any beverage you consume every day, to make it a nutritional powerhouse. It acts at the molecular and genetic level to lower metabolic stress and helps promote a calm and relaxed mood, clarity and focus. More than 200 scientific studies are related to this ingredient.
Meridium uses an exclusive Aquasol™ technology which allows this ingredient to be added to water and become soluble, unlocking its power.
This allows it to get into the body's cells and organs for maximum benefit. It even has the benefit of supporting good oral health without effecting beneficial bacteria in the digestive tract.
"This is the first of many new technology platforms that the company will acquire," Mark Adams, CEO and co-founder of SOZO commented.

"The active botanical compound found in xanthohumol, boosts the genes associated with oxytocin, the feel good neurohormone associated with happiness and balance, skin health, cardiovascular health and general well-being. This discovery is so important that it's the subject of a new patent. The market opportunity is huge, in particular as we expand into Asia."
SOZO launched the Meridium technology at its National Empowerment Convention in Dallas, Texas on April 11. For more information on SOZO Global, Inc., please visit www.sozoglobal.com.
About SOZO GLOBAL
SOZO Global is a healthy lifestyle company headquartered in Austin, Texas. SOZO products are sold through independent Distributors across North America, Africa and Asia. SOZO is a best-in-class nutritional products curator with category leading products based on CoffeeBerry®, IGOB131®, numerous globally patented fruit and vegetable extracts and now Meridium® xanthohumol. The SOZO product line includes a nutritional beverage, a range of healthy coffees including one for weight loss support, SoRadiant skincare and Ignite® natural energy drinks.
All SOZO products are of the highest quality, with clinically studied ingredients. The nutritional beverage was the subject of a clinical study to demonstrate its efficacy. SOZO has top leadership in its management team. Mark Adams, CEO, was named the 2008 Ernst & Young Entrepreneur of the Year. SOZO is a proud member of the Direct Selling Association.