WOR(l)D Global Network Celebrates Its 4th Birthday In Moscow
April 21, 2015
By Team Business For Home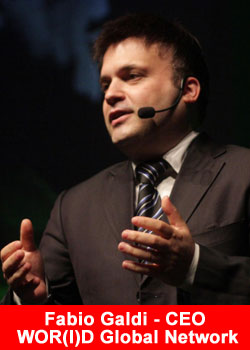 WOR(l)D Global Network choose Moscow to celebrate last week its 4 years of activity.
Today, with 350,000 distributors in over 100 countries, the company led by Fabio Galdi is attracting considerable media attention as a leader in the mobile and wearable technology market.
Employing the brightest minds and best professionals worldwide, WOR(l)D constantly invest in great ideas and highly motivated people. Every WOR(l)D product reflects passion for research, innovation and environmental responsibility.
Founded in 2011, WOR(l)D is now recognized as a leading player in the drive towards a more economically stable, socially connected, "greener" world. Leveraging a new business paradigm, WOR(l)D seeks to transcend every social and economic boundary. Using innovative products and a proven, direct selling business model, WOR(l)D is helping people around the globe to transform their lives and their livelihoods.
As Fabio Galdi states,
WOR(l)D's phenomenal success is built in partnership with of thousands of dedicated, ambitious people worldwide who identify with WOR(l)D values and who promote WOR(l)D's innovation.

Many of those same people who started on the ground floor have risen to influential positions in WOR(l)D global markets. Through the efforts of this dynamic, close, growing group of people, WOR(l)D products are being used, read about and studied in more than 100 countries.