DubLi Appoints New Board Of Directors, Appoints Chairman, And New Name
May 8, 2015
By Tina Williams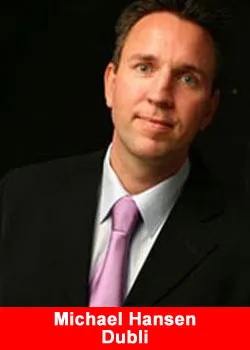 DubLi, Inc. (otc pink:DUBL), a global Cashback rewards and value-based travel, shopping and entertainment platform, today announced the appointment of six new Directors and a new Chairman of the Board. The new appointments made by DubLi's majority shareholder expand the Board to seven members, of which five will be independent Directors.
The new Board will be seated approximately 20 calendar days after mailing of information statement to all stockholders in accordance with SEC regulations. Also, the Company is changing its corporate name from DubLi, Inc. to Ominto, Inc.
I am pleased to announce the appointment of a world class board of seasoned leaders to support our global business plans, said Michael Hansen, DubLi's President and Chief Executive Officer and majority shareholder. The new board brings together highly complementary skill sets of strategic capital allocation, technology, operational and growth expertise that will be instrumental in guiding our global expansion. David Pollei, who will be named Chairman of the Board, played a vital role in assembling this outstanding leadership team.
The directors nominees are: David C. Pollei, CEO of Blair Cannon Financial; Gary Baughman, former CEO of Fisher-Price Toys; Gregory J. Newell, former United States Ambassador to Sweden; Ivan Braiker, previously President and Chief Executive Officer of Hipcricket; Mitch Hill, former President and CFO of Buy.com; and Peter Harris, current CEO of Spartan College of Aeronautics and Technology.
A pioneer of the online Cashback model, Michael Hansen has developed a powerful platform for global shopping innovation, said Mr. Pollei. I am thrilled to be joining the Board as Chairman, and, together with our fellow directors, we look forward to supporting a highly differentiated worldwide partner and customer base.
Over the past year, each of the new Directors gained an intimate knowledge of the Company while serving on DubLi's Board of Advisors. The Company thanks its outgoing Board of Directors, Blas Garcia Moros, David Sasnett and Lester Rosenkrantz, for their contributions to DubLi.
Background on the New Board of Directors
David C. Pollei, Chairman of the Board, brings strategic management and operational experience to DubLi as an investment banker and principal of Blair Cannon Financial, a strategic investment banking and marketing/communications advisory firm. Having raised over a quarter of a billion dollars for online ecommerce, media, technology, education and communication businesses, he formerly served as President and CEO of DNDT, an online SAAS classified ad system, and as President of SISNA, (Ikano) an Internet service provider. Earlier in his career, he was a Vice President of Marketing for ABC Radio and since advised major radio and TV stations in major markets on marketing and communications. He was also previously President of Shopping by Satellite (a forerunner to HSN/QVC) and has held executive and management positions with AT&E, which developed Seiko's paging wristwatch, California News Syndicate and WaveShift — now maxpreps.com of CBS sports.
Mr. Pollei guest lectures around the world and has been featured in The Wall Street Journal, Barron`s Billboard, Gannett and Electronic Media. Mr. Pollei holds a double Bachelor of Arts from Brigham Young University in International Relations and French.
Gary Baughman is currently a private investor. Over the years, he has been associated with a number of private equity firms, including Centre Partners and Golub Capital in New York City, Westar Capital in Costa Mesa, California and most recently, Gauge Capital, a newly formed private investment company headquartered in Southlake, Texas. In his association with Westar Capital, Mr. Baughman served as Chairman and CEO of Petmate, Inc. Prior to joining Petmate, Mr. Baughman was CEO of Fisher-Price, a wholly owned subsidiary of Mattel, Inc., where he led the company through a turnaround and return to profitability. Before joining Fisher-Price, he was CEO of Tyco Toys, Inc., the world's third largest toy company at that time. Prior to joining Tyco, Mr. Baughman was President of the Little Tikes Co., then a division of Rubbermaid, Inc. His executive background also includes being President of Evenflo Products Co., one of the world's leading producers of juvenile products, where he led the company through a turnaround in sales and earnings.
Gregory J. Newell is currently President and Chief Executive Officer of International Commerce Development Corporation, which provides U.S. and international companies with planning and execution of accelerated growth objectives. Since joining International Commerce Development Corporation in 1993, he supported the generation of $342 million in incremental revenue from Asia while serving as interim Managing Director of International Development and Operations for an international company. In that position, he executed a strategy to access 24 Asian and European countries in five years and helped build a foundation for a successful IPO and $2.3 billion market capitalization.
During his tenure, Mr. Newell also revived and completed groundbreaking projects (totaling $146 million) for a $9 billion publicly-traded corporation, establishing and maintaining credibility with Government Officials and investors in China and Europe. Throughout his career, Mr. Newell has successfully executed aggressive strategic international expansion plans for more than 90 enterprises. He is a former U.S. Ambassador to Sweden and U.S. Assistant Secretary of State for International Organization Affairs. Mr. Newell served in appointive positions for four U.S. Presidents.
Ivan Braiker previously served as President and Chief Executive Officer of Hipcricket, a pioneer in mobile engagement platforms, where he was directly responsible for growing revenue and leading Hipcricket to be a major force in the industry from 2004-2014. Earlier in his career he was President of Steamline Publishing, Inc., where he returned the company to profitability within one year.
Prior to Steamline Publishing, Mr. Braiker was President and Chief Operating Officer of New Northwest Broadcasters, LLC, leading the acquisitions of radio stations across the Northwest while doubling cash flow within three years by strategically re-engineering and consolidating 43 stations across eight markets. As President of Satellite Music Network (SMN), he established the first radio network using satellites to distribute live 24-hour programming.
Mr. Braiker has been a featured speaker at industry and financial conferences on mobile marketing and been quoted in many major publications. He attended American University, Washington, D.C., studying International Relations and was honorably discharged from the U.S. Air Force Reserves-Andrews Air Force Base.
Mitch Hill has been named Chairman of the DubLi Audit Committee and is currently Co-Founder and Chief Financial Officer of Fortunato Capital Management, Inc., a real estate private equity firm. Prior to Fortunato, Mr. Hill was Executive Vice President and CFO of Alphaeon, Inc., a subsidiary of Strathspey Crown, LLC. Mr. Hill has an extensive and successful track record with private equity and venture capital-backed firms including his service as CFO of Cameron Health, Inc. (sold to Boston Scientific) and Visiogen Inc. (sold to Abbott Medical Optics). Earlier in his career, he was President and CFO of Buy.com Inc., a high-profile pioneer in early ecommerce solutions with annual sales of approximately $800 million, and Senior Vice President and CFO of Walt Disney Imagineering, a 3,000 person creative, technical and real estate / theme park development company. Mr. Hill also worked in the investment banking division of Goldman Sachs. Throughout his career he has supported startup launches, and has transformed companies from R&D phases and private capitalization to commercialization with manufacturing, marketing and sales, including preparation for IPO.
Mr. Hill received his MBA from Harvard Graduate School of Business Administration, with a focus in Finance, and his BS from Brigham Young University, Business Accounting, summa cum laude.
Peter Harris is currently the CEO of Spartan College of Aeronautics and Technology, a leading provider of training in aviation maintenance, flight and related fields. During his career, Mr. Harris has held the position of CEO or COO at several companies owned by private equity firms, including the largest provider of domestic executive office suites, a national staffing firm, a provider of telephonic interpretation services in more than 200 languages for premier healthcare organizations, the nation's largest independent adult day services provider, and the largest owner and operator of Jiffy Lube stores. Mr. Harris first served as a corporate officer while working for the largest provider of hospice care in the U.S. In addition to executive roles at portfolio companies, he has served as a board member for more than a dozen companies across a wide range of industries. He is a seasoned executive who has demonstrated an ability to make positive changes in many types of businesses with customers across the nation and the globe.
Mr. Harris received an honors undergraduate degree in Mathematical Methods in the Social Sciences and Political Science from Northwestern University and a Juris Doctorate from Harvard Law School, where he served as Editor-in-Chief of the Harvard Journal of Law & Public Policy.
The Company also announced today it is changing its corporate name from DubLi, Inc. to Ominto, Inc.
Mr. Hansen continued, The DubLi name has long been synonymous with Cashback Shopping around the world. The Ominto name is reflective of our growth strategy and indicative of a company involved in a greater breadth of business opportunities.
About DubLi, Inc. DubLi provides Cashback rewards and value-based travel, shopping and entertainment portals to online customers all over the world through DubLi.com. DubLi is a consumer-focused company, where the customers' needs always come first. At DubLi.com, we believe consumers shop at the same stores they shop normally, find the best deals and then earn Cashback with each purchase. DubLi features thousands of brand name stores, industry-leading travel companies from around the world along with insurance, financial services and telecommunications. DubLi, Inc. also offers entrepreneurs the opportunity to create their own distributor organizations by joining DubLi Network (Dublinetwork.com). The global network of Business Associates who form DubLi Network, the sales and marketing engine for DubLi.com, generates traffic to DubLi.com by using direct selling to market a variety of memberships and packages. DubLi Partner (Dublipartner.com) offers a co-branded version of its DubLi.com platform that gives participating organizations a professional and reliable web presence while providing access to DubLi's global online Cashback travel, shopping and entertainment site.
DubLi is emerging as a leading provider of innovative travel, shopping, and entertainment solutions to consumers in more than 120 countries. DubLi, Inc. was founded in 2003 and is headquartered in Fort Lauderdale, Florida.