Forbes Recognizes Cindy Monroe, Thirty-One Gifts, As One Of 8 Women To Watch
May 28, 2015
By Tina Williams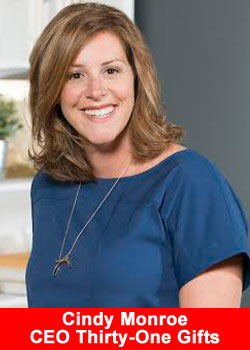 Among mega names like Jessica Alba, Natalie Massenet, and Sandra Bullock, Forbes recognized Cindy Monroe, Thirty-One Gifts CEO, as one of 8 women to watch — giving the company even further credibility for their position in the marketplace. The article, which can be found on Forbes.com, states:
Here are more details on all eight women entrepreneurs and executives to keep an eye on:
Jessica Alba
$200 million
Age: 34. Residence: Los Angeles, Calif.
The actress has found surprising success in an unrelated industry: household products. In 2011, she cofounded The Honest Company, which makes non-toxic baby gear, cleaning supplies and bath and body products. She owns up to 20% of the company, which saw revenues grow from $10 million 2012 to $150 million in 2014. The company was recently valued at $1 billion.
Sandra Bullock
$200 million
Age: 50. Residence: Austin, Tex.
One of Hollywood's highest-earning actresses. Her production company, Fortis Films, has made 8 movies since 1998 and scored earlier with a lucrative syndication deal with its George Lopez sitcom. She is set to voice a villain in Minions, this summer's Despicable Me spinoff. Her performance in Gravity in 2013 earned her a second Oscar nod–and a $60 million payout. Bullock also owns two restaurants in Texas.
Cindy Monroe
$200 million
Age: 40. Residence: New Albany, Ohio
When she was 28 and a young working mother, Monroe had an idea to help women earn extra money by hosting parties selling gifts and accessories. She held the first in 2003. Since then over 300,000 consultants have held more than 4.5 million parties for her company, Thirty-One Gifts. Revenues hit $643 million in 2014, down from $763 million the previous year. Monroe cut costs to keep up profits and is now testing new products like monogrammed pillows, wall art and fragrances.
Taylor Swift
$200 million
Age: 25. Residence: New York City
The singer has transitioned seamlessly from country starlet to pop superstar, taking home 8 Billboard music awards in 2015–more than Sam Smith, Hozier and One Direction combined. Swift has already earned roughly $300 million during her career and plowed much of it into real estate, reportedly buying homes in Nashville, Beverly Hills, New York City and Watch Hill, R.I. She and her family own a large piece of Big Machine Records, home to Swift and a host of other artists, including Rascal Flatts and Tim McGraw. The company is said to be on the block for up to $350 million.
Natalie Massenet
$170 million
Age: 50. Residence: London
The former fashion journalist launched online luxury retailer Net-a-Porter in 2000. She sold a majority stake to Swiss firm Richemont in 2010 but stayed on as executive chairman. Now the $835 million (sales) company plans to merge with Italian firm Yoox in September in a deal that values the combined entity at $2.5 billion.
Lynn Jurich
$130 million
Age: 35. Residence: San Francisco
Cofounder and CEO of Sunrun, which provides affordable solar energy service to 60,000 homeowners in 12 states. The company has reportedly raised $295 million at a valuation of $1.3 billion. After a stint in private equity, Jurich started the firm in 2007 at age 27 with Stanford business school classmate Ed Fenster.
Lisa Falzone
$100 million
Age: 30. Residence: Menlo Park, Calif.
Three years after graduating from Stanford, Falzone launched point-of-sale software firm Revel Systems with partner Chris Ciabarra in 2010. The firm's iPad-based software is used in retail and restaurant chains such as Dairy Queen and Popeye's Louisiana Kitchen. Falzone is CEO of Revel, which is based in San Francisco and now valued at more than $400 million.
Angela Ahrendts
$75 million
Age: 55. Residence: Cupertino, Calif.
The former Burberry CEO hopped across the pond in May 2014, joining Apple as the senior vice president of retail and online stores and the first woman on CEO Tim Cook's executive team. One of the highest-paid female executives on both sides of the Atlantic, Ahrendts was credited with tripling revenues during her 8-year tenure at the fashion label. Earlier, the Indiana native had gigs with Liz Claiborne and Donna Karan.