Isagenix Wins 19 Awards From Three Different Organizations
May 28, 2015
By Tina Williams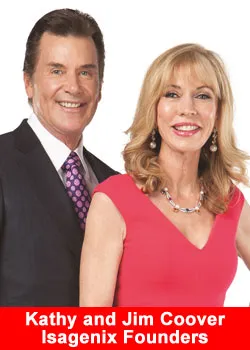 The health and wellness company, Isagenix International, has won several communication awards from the Direct Selling Association (DSA), The Communicator Awards, and the American Business Awards (Stevies) in conjunction with the Asia-Pacific Stevies.
At Isagenix, it is our pleasure to provide our independent Associates with the best possible tools for their businesses. As always, if it's not right for the Associates, it's not right for the company, says Isagenix Vice President of Corporate Communications and Marketing Services Kevin Andrus.

When we develop our tools and resources specifically for Isagenix Associates, we strive to make sure they're the bestfrom the content to the presentation. These awards tell us that we are on the right track!
Isagenix won two DSA Ethos Awards. The Direct Selling Association (DSA) is the national trade association of the leading firms that manufacture and distribute goods and services sold directly to consumers. The Ethos Awards are designed to identify and promote programs that serve as examples of direct selling at its best to help people live better lives.
Isagenix won the title of Excellence in Salesforce Development Programs for their $500 Million: Together We Will Challenge and the Technology Innovation Award for the #StartYourLife digital magazine application. Furthermore, Isagenix is currently ranked as the No. 27 direct selling company on the Direct Selling News Global 100 list.
DSA congratulates all 2015 Ethos Award sub-category winners for their outstanding accomplishments and contributions to direct selling, says DSA President Joseph Mariano. These programs are excellent examples of the creativity and innovation that continue to drive our industry.
The Communicator Awards is the leading international awards program in recognizing big ideas in marketing and communications. Founded two decades ago, The Communicator Awards receives over 6,000 entries from companies and agencies of all sizes, making it one of the largest awards of its kind in the world.
This year, Isagenix received six awards in various categories from the organization:
Gold Award of ExcellenceContent Marketing: StartYourLife.com microsite
Silver Award of DistinctionBranded Content: Isagenix Difference Video
Silver Award of DistinctionOnline Science Video: Telomeres and Aging
Silver Award of DistinctionContent Marketing Blog: IsaFYI.com
Silver Award of DistinctionContent Marking Magazine Article: START Your Life Article in IsaNews Magazine
Silver Award of DistinctionMagazine Corporate: IsaNews Magazine Winter 2014
Finally, for the fourth year in a row, Isagenix has been nominated in several categories for theAmerican BusinessAwards, also known as the Stevies. The American BusinessAwards is the nation's premier businessawards program.
The American Business Awards are known as the premier business awards program in the U.S. Past winners include Proctor & Gamble, Sony, American Express, Tropicana, Wynn Las Vegas, AT&T, Domino's, and Aflac.
The organization recognized Isagenix asfinalistsin the following categories:
Fastest-Growing Company of the Year
Executive of the Year in Health Products & Services Jim Coover, Co-Founder and President
Woman of the Year Kathy Coover, Co-Founder and Executive Vice President
Marketing Executive of the Year Erik Coover, Vice President of Global Field Development
Best Training Site IsagenixBusiness.com
Best Online Press Room IsaFYI.com
Best Print Newsletter or Publication IsaNews Magazine
Best Print Marketing or Sales Brochure/Kit Isagenix 90-Day Game Plan with Launch Party Kit
Communications Department of the Year
The health and wellness company also won two different Asia-Pacific Stevie Awards:
GoldBest In-House Publication for IsaNews Magazine in Australia and New Zealand
BronzeBest Brand Experience Event category for Australia and New Zealand Celebration
This year has already been a breakthrough for Isagenix, and these awards are validation that we're doing it right, says Chris La Fleur, Isagenix Director of Corporate Communications and Publications.

On behalf of the thousands of lives we touch every day, we offer a heartfelt thank you to our entire Isagenix family. Together as one team we are making our world healthier.
About Isagenix
Isagenix offers Solutions to Transform Lives and provides systems for weight loss, energy and performance, healthy aging, and wealth creation. Isagenix products are distributed through an independent network of associates in the U.S., Canada, Puerto Rico, Hong Kong, Australia, New Zealand, Taiwan, Mexico, Singapore, Malaysia, Colombia, Vietnam, and Indonesia. The company's vision is to impact world health and free people from physical and financial pain. Isagenix, established in 2002, is a privately owned company with headquarters in Chandler, Ariz., and is a member of the Direct Selling Association.