Latin American MLM Yanbal Partners with French Perfumer Arnaud Winter
May 5, 2015
By Team Business For Home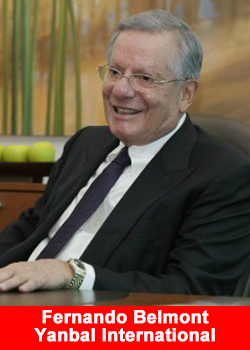 Latin American Direct Selling company Yanbal International has partnered with French Master Perfumer Arnaud Winter, known as one of the ten best 'noses' in the world in the perfume business to create the new Yanbal Liberetta fragrance.
Yanbal fragrances are created in its prestigious laboratory in Fort Laudardale, Miami from a unique selection of ingredients by a group of renowned perfumers and a creative team.
Yanbal founded in 1967 by Peruvian Billionaire Fernando Belmont, is known for its cosmetics, make-up, body care products, perfumes and jewelry, and has a presence in eight Latin America countries (Bolivia, Columbia, Ecuador, Guatemala, Mexico, Paraguay, Peru and Venezuela) and in two European countries (Italy and Spain).
The new perfume was launched by Arnaud Winter in Paraguay at an event for Yanbal's independent distributors.
Yanbal International is one of the fastest-growing door-to-door cosmetics company in Latin America with estimated sales of $800 million.
About Yanbal
Yanbal International founded in 1967 manufactures and sells cosmetics and personal care products and is one of the fastest growing direct selling companies in Latin America. The company is headquartered in San Isidro, Peru.
Yanbal is present in 8 countries in Latin America and 2 in Europe with more than 420,000 beauty consultants. The company also has 5 manufacturing plants and employees more than 5000 people. It was ranked at No.20 in DSN Global 100 2015.