Regeneca Worldwide Announces New President
May 19, 2015
By Team Business For Home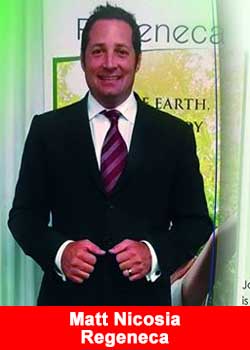 Regeneca Worldwide has concluded their search for a new President and are pleased to announce that Mr. Trent Staggs will now lead the company in this role.
"We are thrilled to have Trent Staggs join the Regeneca team and lead the company's operations," said Chairman Matt Nicosia. "Mr. Staggs has over ten years of experience in the direct sales industry and will be a key resource in directing the growth of the company domestically and guide the company as we commence international expansion."
Mr. Staggs has demonstrated the leadership necessary to run both successful start-up and Fortune 500 organizations in the Direct Sales, Finance and Technology industries. Prior to becoming Regeneca's President, he was on the executive team at Unicity International, a direct sales company that operates in over 30 markets, serving as their VP Technology. In that role, he was responsible for providing strategic direction and leadership of global integrated systems, software and IT infrastructure, which included the creation of mobile and web applications for their distributors worldwide. Mr. Staggs received his Bachelor of Arts degree from the University of Utah and received his MBA from the Marriott School of Management at Brigham Young University.
"I'm excited to be working with such an innovative, and well-respected company," stated Mr. Staggs. "Regeneca offers a high-quality line up of products that center on regeneration at the cellular level, and those that have taken their products have reported greater health and wellness in their physical, mental and emotional aspects of their lives. Regeneca has also pioneered the merging of direct response marketing with network marketing, eliminating the age-old problems in the network marketing industry of both brand awareness and limited prospect pools."
Regeneca has seen their revenue grow over 400% from 2013 to 2014 and looks to continue such phenomenal growth in 2015 as they bring on new products and new markets. New markets will include the Philippines, Mexico and the Dominican Republic this year.
About Regeneca Worldwide
Regeneca Worldwide is a leader in the direct sales industry, offering the highest-quality products that focus on regenerating the health and wellness of their customers at the cellular level. They are headquartered in Cottonwood Heights, UT and market their products through the unique combination of independent distributors and direct response marketing. Some of their products include the appetite suppressant RegeneSlim™, the bio active beverage RegeneBlend™, and the stem cell repairing RegeneFit™. For more information, see the company website at https://www.regeneca.com