Rolf Kipp – Forever Living Products Top Earner Hits $780,000 Per Month
May 5, 2015
By Team Business For Home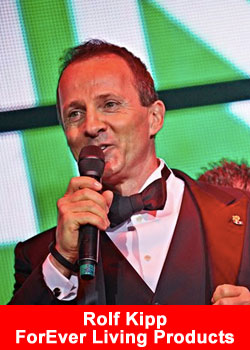 ForEver Living Products German top earner Rolf Kipp has hit the $780,000 per month mark, making him currently the nr. 4 Top Earner in the world according to the Business For Home ranks. He joined FLP in june 1995.
Rolf stated:
Thanks to my parents, I found out about FOREVER. My mom had a kidney disease, which caused her skin to be paper-thin. My father, who unfortunately died 2 years ago, was diagnosed with prostate cancer. All of our friends were trying to help by suggesting different kinds of medications, different types of foods.
At that time (10 years ago), I read an interview with Mr. Rex Maughan, founder of FOREVER and really wanted to found out about their products. I sent fax to United States headquarters and literally next day received a reply from the person who was in charge of German territory. I decided that I should to develop my network (downline) in Germany. At that time German market was not open for FOREVER and very few people were familiar with FOREVER products. I personally wanted to familiarize myself with the products.
To be honest, at first I recommended the products to my parents and they had unbelievable success. My parents felt better right away. My Mom looked younger, you could see the effect especially on her skin. My father also said that he felt better and he continued to drink Aloe Vera Juice almost until his death.
About Forever Living Products
Forever Living Products was founded in 1978 on a little more than dreams and hard work. It was designed to help anyone who wanted to attain a better future, Better health, more wealth, and a secure future.
More than 30 years later, Forever Living is a multi-billion dollar company with a presence in over 150 countries. We manufacture and sell dozens of exclusive, beneficial wellness products based on one of nature's purest gifts – aloe vera. Our unique business opportunity compensates people like you for sharing our products with others.
Over 9.5 million Forever Business Owners' (FBO) worldwide have discovered the power of Forever Living's once-in-a-lifetime opportunity. Millions of people are enjoying more fulfilling, healthier, and wealthier lives, thanks to a small business that began with only a dream.