Talk Fusion Helps Japanese Associate Rebuild His Life
May 13, 2015
By Team Business For Home International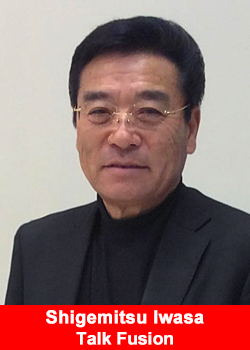 On May 28, 2015, Talk Fusion Associate Shigemitsu Iwasa will be enjoying his four day trip to paradise in Maui, Hawaii. With dedication and a last minute burst of effort, he achieved the rank of "Diamond" and qualified for Talk Fusion's Dream Getaway vacation incentive.
It's a testament to his determination and the power of the Talk Fusion Business Opportunity. While Shigemitsu will be delighting in the island sun and attending powerful motivational sessions held by Talk Fusion Top Leaders, just four years ago things were not looking nearly as bright.
Until 2011, Shigemitsu ran a successful driving school in Japan. Then the Great East Japan earthquake hit. It was the most powerful earthquake ever to hit Japan, and the fourth most powerful ever recorded.
The devastation was catastrophic. All told, over 1,000,000 buildings were destroyed or damaged. For Shigemitsu, the disaster was even more personal: he lost his school to the earthquake, lost employees, lost his house, and even lost family members.
Determined to get back on his feet and provide for his family, he was introduced to the Talk Fusion opportunity. He quickly made the decision to join.
"My sponsor showed me a Talk Fusion branded Visa card, and she told me, 'This is the only card in the world where you can get paid within three minutes.' I got confident that I can protect my family in this business."
Even though the World's First Instant Pay Compensation Plan was a clear highlight, Shigemitsu saw other advantages. For one, Talk Fusion requires no purchase or warehousing of costly inventory. "I have been working in the MLM industry for almost 30 years, but the monthly cost is so high," he notes. Since Talk Fusion's innovative video communication products are virtual, there is no physical inventory to store and it makes them easy to share.
"Anyone can do it," he says.
With the help of his team of Talk Fusion Associates, Shigemitsu plans to continue down the road to success. "I was helped by a lot of people. It was only possible thanks to everyone who aims together with me." He'll get a chance to relax at the Dream Getaway in Hawaii with many of them, then take the motivation he gets from Talk Fusion Top Leaders back to the rest his team. When they put the principles and inspiration to work, they can qualify to join him on the next Dream Getaway in December.
"When I worked MLM previously, I was working just for myself. Now I want to help others, and spread the philosophy of Founder & CEO Bob Reina. I want to work to help people and tell everyone about the Instant Pay Compensation Plan. Everyone is seeking the independent lifestyle."
ABOUT TALK FUSION
A global leader in video communication products, Talk Fusion connects people around the world through cutting-edge video technology and the means to share it, empowering them to live their dreams. Talk Fusion's innovative video products are marketed person-to-person by independent Associates in more than 140 countries.
Founded in 2007 by CEO Bob Reina, Talk Fusion introduced the world's first Instant Pay Compensation Plan. Talk Fusion adheres to the highest ethical business practices and is a member of the prestigious Direct Selling Association (DSA). Reina firmly believes that "with great success comes greater responsibility."
Talk Fusion fosters a strong commitment to giving back to friends, family, communities, and animal charities across the world to produce a positive global change. Learn more at www.TalkFusion.com and "Like" Talk Fusion at www.facebook.com/TalkFusion.
Income Disclaimer:
Any earnings portrayed in any Talk Fusion marketing materials are not necessarily representative of the income, if any, that a Talk Fusion Associate can or will earn through his or her participation in the Talk Fusion Instant Pay Compensation Plan. All references to income, implied or stated, throughout the Talk Fusion Instant Pay Compensation Plan are for illustrative purposes only. These figures should not be considered as guarantees or projections of your actual earnings or profits. Talk Fusion does NOT guarantee any level of income or earnings to any Associate; any representation or guarantee of earnings would be misleading. The purchase of a Talk Fusion Product Package is completely optional and is not required for an Associate to participate in the Talk Fusion Instant Pay Compensation Plan.