Tiens to Celebrate 20th Anniversary with 60,000 Distributors in China
May 21, 2015
By Team Business For Home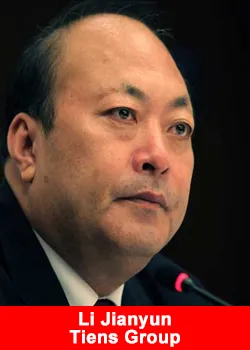 Tiens Global, the Chinese direct selling giant made headlines earlier this month for taking some 6,400 distributors worldwide on what turned out to be a luxurious vacation in France.
Abdulkadir Abdulahi, operations staff member of Tiens Ethiopia Business PLC, a branch of Tiens Global and registered as a local importer and distributor firm, told The Reporter in Ethiopia that the number of Ethiopians who were eligible to attend events in France are about 300. However, 17 of them were unable to make it to France for failing to meet requirements set by the French Embassy. However, according to Abdulkadir, the head office of Tiens in China is arranging compensatory trips to take the remaining distributors to China.
The vacation to France according to Abdulkadir is related to the upcoming 20th anniversary celebration of Tiens Global to be held in China in August. Some 60 thousand distributors are expected to attend the event and out of those, about 200 to 300 Ethiopians are believed to join Li Jinyuan, the billionaire and chairman of Tiens Global.
Abdulkadir said that agents who have been chosen to be part of the luxurious trip in France, with the rest of the 6,400 individuals from around the world, are those who have achieved a two-month sales of USD 6,000. The remaining hundreds are to be compensated by traveling to China for a six-day vacation. Last month, some 30 individuals have each been rewarded USD 15,000 brand cars for achieving a six-month sales of USD 60,000.
Media outlets have reported about the holiday trips to France that the billionaire is noted for, as well as for his booking some 140 hotels and 4,700 rooms on the Cote d'Azur–the famous coast line in the southeast part of France. According to news reports, the 6,400 individuals have spent two days in Paris and two days in Nice. Jinyuan is assumed to have spent ten million pounds for the trip.
Featured on Forbes 2011 list of the world's billionaires, Jinyuan founded Tiens Group in 1995. The company's revenue of the previous year stood at USD 1.16 billion and the company ranks 15th out of the top hundred direct selling companies across the globe.
However, the local branch of Tiens in Ethiopia has been in situations where, in 2009, the outlets of Tiens were shut down following allegations that Tiens was distributing drugs without authorization. Tiens applies direct selling methods, mainly employing a network marketing strategy which, according to some observers, is similar to binary methods where a network member will receive incentives and bonuses in what is known as a pyramid network.
According to the Ethiopian Trade Practices and Registrations Proclamation, a pyramid network and related practices, is considered to be a scam and prohibited by law. Seid Jembru is one of the Tiens agents who refute such claims. He told The Reporter that Tiens is a global conglomerate that manufactures and distributes various products unlike scammers who fail to do so. Seid says he is a student at Mekele University and a part time Tiens distributor. He aspires to become like one of the achievers receiving lavish incentives offered by the billionaire.