Biocuetica Launches New Product Line
June 26, 2015
By Nicole Dunkley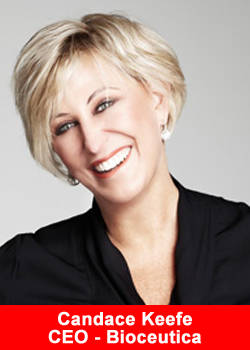 Bioceutica encapsulates the spirit of health, well-being and freedom in their expansive range of cosmeceuticals and nutraceuticals. Every product released by the brand is safe for the environment and offers consumers the opportunity to live a healthy and natural lifestyle through custom nutrition, skin care and cosmetics that focus on offering 'real results'.
The health conscious empire is pleased to announce the arrival of their new make-up range, called Biocuetica INGENIOUS Cosmeceutical Color which goes on-sale to the general public on July 1st 2015. The range comprises a collection of new generation "feature enhancing" products that are formulated to protect and rejuvenate natural beauty. It's a comprehensive concept in color, delivering age-defying formulas that nourishes skin and defends aging.
The new product line, branded as Bioceutica LUMINOUS, contains the following products:
Bioceutica LUMINOUS C-Perfection Pore-less Foundation SPF 15
Rich in Vitamin C and natural botanicals, this pore-less foundation transforms the skin, creating a natural self-adjusting luminous glow, while reducing the appearance of pores. Available in eight adjustable shades, this foundation is a healthy and ageless approach to perfection.
Bioceutica LUMINOUS Renew 4 Luxury Lash
Bioceutica transforms eyelash growth by combining Keratin and Panthenol to strengthen lashes, whilst the addition of Sodium Hyaluronate keeps lashes moisturized throughout the growth cycle. As a result, lashes remain healthy and protected from this synergistic approach.
Bioceutica LUMINOUS ButterSHINE Lip STICK
This lipStick not only lines the lips but also conditions them to be ultra-smooth and glossy. It is delivered in the form of a convenient pencil that requires no sharpening, so it's perfect for those on the go. Bioceutica has released this two-in-one shine and color in six lip perfecting shades, so it's suitable for all.
Bioceutica LUMINOUS Relax Concealer
Made using photo-reflective pigments, this concealer from Bioceutica enlivens the skin and hides imperfections. Suitable for all complexions, it protects and conditions the skin, reducing lines and wrinkles.
Bioceutica LUMINOUS Ingenious Color Palette
The Color Palette is the ultimate cosmetic kit that will keep skin looking naturally flawless. The all-in-one set contains cheek contour, blush, bronzer and a trio of eye shadows. It's everything a woman needs in a face palette to get the perfect look.
The Artist in Me! Professional Brush Set
Bioceutica is giving women access to professional and high quality brushes, that enables them to create a more precise, even and flawless cosmetic application. This set contains the six brushes every woman needs, which are to be used for applying bronzer/powder, contour/blush, foundation, large shadows, small shadows and defining eyebrows.
For more information on Biocuetica's INGENIOUS Cosmeceutical Color products, or if you are interested in becoming a consultant for Bioceutica visit their website: https://www.bioceutica.com
SOURCE: Bioceutica