Cambridge Weight Plan Celebrates 5 Years In Nigeria
June 22, 2015
By Team Business For Home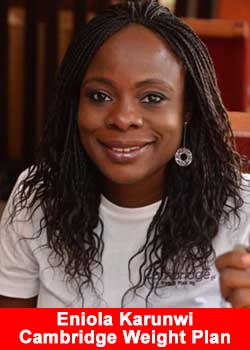 Cambridge Weight Plan (CWP), the weight management lifestyle company, celebrates five years since its launch in Nigeria. CWP was created by biochemist Dr Alan Howard and his colleague Dr Ian McLean-Baird as they sought to develop the "perfect diet".
Their formula produced sunstantial weight loss results and following many years of research, the first commercial version of Cambridge Weight Plan, known then as The Cambridge Diet, was launched in the UK in 1984. Since then more than 30 million people from all over the world have used Cambridge Weight Plan.
The company was launched in Nigeria in 2010 by Eniola Karunwi who lost 50kg through CWP. She saw a gap in Nigerian health and wellness industry for a nutritional approach to weight loss and maintainance after discovering that 64% of Nigerians are overweight.
Since its inception in Nigeria, CWP has helped over 6,000 Nigerians lose weight, and change their lifestyles and inspired a number of clients to train to become Cambridge Consultants.
There are currently 32 consultants in states across Nigeria including Lagos, Abuja, Kano, Jos, Abia, Enugu, Calabar, Owerri, Kwara, Ibadan, Akure, Akwa Ibom, Delta, Niger, Ogun, Bayelsa and Port Harcourt.
Although CWP Nigeria is only available through trained Cambridge Consultants, who have all successfully completed Cambridge Weight Plan programmes, Eniola says they supply products as well as offer support, motivation, encouragement and advise clients throughout the process.
"Once a client's goal weight has been reached, the consultant assists clients with long term weight maintenance. According to research, being obese can take up to nine years off of a person's lifespan and increases the chances of developing a range of health related problems. Obesity is a growing problem in Nigeria and CWP provides an affordable solution for people who want to become healthier and live longer" said Eniola.
There are a wide range of products including shakes, soups, chewy and crunchy bars, tasty porridge, savoury rice, ready meals, fabulous desserts and bonus extras. Recently, three new products were added to the range, at the CWP Product Launch & Awareness Day. All CWP products contain the vitamins, minerals and trace elements needed for balanced nutrition and healthy weight loss.