China's Direct Selling Boom Fuels European Tourism
June 9, 2015
By Team Business For Home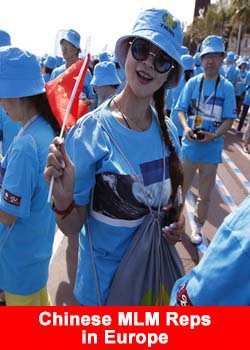 Last weekend, 90 buses, filled with 4,500 Chinese tourists, roamed the Netherlands courtesy of Perfect (China) Co. Ltd., a direct sales firm specializing in household and beauty products. It was an ostentatious trip, but nothing compared to the early May tour of France that Tiens, another Chinese direct sales firm specializing in health and beauty sponsored for 6,400 of its representatives. And that was smaller still than the 110 flights chartered in mid-May to take 12,700 Chinese tourists to Thailand, all of whom work for another Chinese direct sales company, Infinitus, specializing in health and beauty products.
Welcome to China's booming direct sales sector, where revenues have gone from zero to $18 billion in the past decade. It might seem surprising that such an old-fashioned business model — which revolves around people hawking wares to people they already know — is succeeding despite facing competition from the world's largest e-commerce sector. But there's a reason direct sales have found fertile ground in China: Trust is still a relatively scarce commodity in the country's business world.
The modern direct sales industry began in the West in the late 19thcentury, when companies began handing out commissions to people who agreed to work their personal social networks for sales. Nearly a century passed before Avon (the direct sales company famous for its Avon ladies) tried expanding to China in 1990. Amway followed in 1995.
By 1998, Amway was bringing in revenues of $200 million per year. The direct sales model proved ideal for China's many would-be entrepreneurs who were eager to get into business, but who lacked the capital (or political connections) to start something on their own. The industry also happened to fit seamlessly with China's business culture, which places a premium on working with people whom you already trust, such as family members, classmates, and people from the same village.
Why is personal trust at such a premium in China? Part of the reason is that consumer rights in China, even when they have a basis in law, are weak, since the country's court system is mostly inaccessible for people of modest means. As a result, some manufacturers cut corners because they know Chinese consumers have few ways to hold them accountable for selling shoddy products. The public has learned they have good reason to be wary of counterfeits and contamination when shopping at their local markets.
Many consumers find direct sales transactions more reassuring — especially for health and beauty products, like diet supplements — because they typically come with the endorsement of friends, relatives or someone else they know. Nonetheless, direct sales companies initially faced some resistance from the Chinese government. The country's growing mid-1990s direct sales networks, supported by foreign companies, were viewed with official suspicion by the Communist Party, which has a history of treating organized social networks — whether for the purpose of participating in politics or selling makeup — as potential rivals. In 1998 the government banned direct sales businesses outright.
In truth, the sector could have used more government oversight in its earliest years. Some unscrupulous entrepreneurs learned to leverage the trusting relationships that are the foundation of any successful direct sales networks to prop up scams. There have been thousands of cases in China where salespeople were persuaded to invest their savings in worthless inventory (including a notorious ant breeding pyramid scheme that cost investors $385 million, and the organizer his life).
In 2005, under heavy lobbying pressure from U.S. and Chinese direct selling firms, the government legalized the business under a new law that ensured that salespeople don't have to pre-purchase inventory, among other provisions designed to prevent Tupperware parties from becoming criminal enterprises. Today, China is Amway's leading market (with more than $4 billion in annual sales), and four Chinese companies are ranked in the top 20 direct sales companies in the world. In the next few years China will almost certainly surpass the U.S. to become the world's biggest direct sales market.
That's not to suggest that China's direct sales successes should be treated as the foundation for the country's economy. China's world-beating e-commerce marketplace, which racked up $440 billion in 2014 sales, has a much more promising future. But it's worth remembering that there are many Chinese consumers who prefer to buy from somebody they know, even if they carry a smartphone in their pockets. At the very least, it's a reminder that China's future economy won't easily leave its past behind.
Source: Bloomberg