Dr. Victor Shu Joins ARIIX Wellness Council
June 23, 2015
By Team Business For Home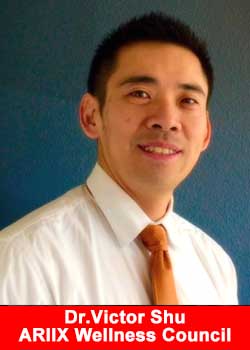 ARIIX, an international opportunity company that promotes healthy, toxic-free living, is pleased to announce the appointment of Victor Shu, D.C., to the ARIIX Wellness Council. Dr. Shu practices advanced chiropractic technique in Daly City, California, and is often recognized for his dedication to bettering the lives of both his clients and his community.
"I am excited to share my honest and professional opinion with ARIIX as new products are developed," said Dr. Shu. "With 12 years of experience as a chiropractor, I have a deep understanding of nutrition and supplementation and how they interact and relate to total body health."
The ARIIX Wellness Council is made up of an exclusive group of extraordinary experts and professionals that help shape the decisions and direction of the global product lines within the ARIIX brands. As a member of the Council, Dr. Shu will join with his peers in raising awareness of ARIIX products and creating opportunities for improved health and wellness within his community and around the world.
As a teenager, Dr. Shu often experienced extreme back pain, which his family doctor labeled as "normal growing pains." It was not until college that Dr. Shu realized his pain was not normal and he began researching alternative medicines and therapies. A breakthrough happened when he visited a chiropractor, and experienced major improvement in his pain after only two sessions. That was the spark that ignited his passion for chiropractic care.
Dr. Shu graduated with top honors from Palmer College of Chiropractic West, and soon after made Daly City Chiropractic Center his new home.
"I come from a family of healthcare professionals—my mom is a pharmacist and my uncles and cousins are mostly medical doctors and dentists," said Dr. Shu. "Staying well and healthy has always been my top priority and I'm excited for this opportunity to share my passion and help others as part of the ARIIX Wellness Council." said Dr. Shu.
"We are pleased to welcome Dr. Shu to the team," said Dr. Fred Cooper, ARIIX Chief Executive Officer and Founder. "His dedication to helping people improve quality of life by transforming their body's health is a perfect fit for the Wellness Council. We look forward to working with him."
About ARIIX
ARIIX is an international opportunity company that creates superior, exclusively branded products marketed through independent representatives. To promote healthy living, ARIIX develops toxic-free products through collaboration with world-renowned experts in the health, wellness, and fitness industries. With a devotion to helping others unleash their potential for good, ARIIX provides a global vision, outstanding management experience, driven industry leadership, and a valued partnership that protects its representatives. This partnership is underscored by a patent-pending compensation plan created to give the greatest benefit to the representative. The ARIIX opportunity and products are available in Australia, Canada, Greater China including Hong Kong SAR and Taiwan SAR, Japan, Kazakhstan, Mexico, The Netherlands, Portugal, Russia, Singapore, South Korea, and the United States. For more information please visit www.ariix.com or phone 1-855-GO-ARIIX.