Herbalife Retaliates With A Website Attacking Bill Ackman
June 2, 2015
By Tina Williams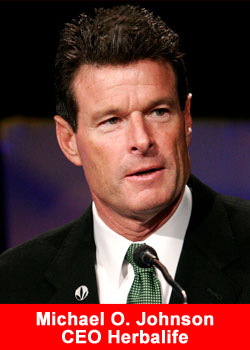 Herbalife Ltd. went on the attack against nemesis Bill Ackman on Monday, debuting a website that paints the billionaire hedge fund manager as an irresponsible opportunist.
Therealbillackman.com includes media reports about legal probes into his anti-Herbalife campaign as well as videos detailing Ackman's investment failures. The counterpunch comes more than two years after Ackman started a site called factsaboutherbalife.com to aid his campaign accusing Herbalife of running an illegal pyramid scheme.
"When Bill Ackman's wrong, he's really wrong," one video caption on Herbalife's website reads. Another asks, "Really, Bill?"
Herbalife's new site is its most public response yet after plenty of maneuvering behind the scenes. The company overhauled its lobbying and public-relations staffs and hired outside help to bolster its image amid federal and state probes into its business practices. The company has repeatedly denied Ackman's allegations.
Ackman didn't respond to messages seeking a response. A spokesman for his hedge fund, Pershing Square Capital Management LP, declined to comment.
Herbalife's shares rose 0.7 percent to $52.60 as of 10:01 a.m. in New York. They had increased 39 percent this year through Monday's close.
Web Addresses
Therealbillackman.com is among several domain names Herbalife snapped up soon after Ackman began his public assault in December 2012. None had been used until now. At the time Herbalife bought the names, Ackman questioned whether a "legitimate company would do something like that."
"The spotlight is on Herbalife, and they are doing everything they can do to turn it away," Ackman said at the time.
Ackman, who shorted $1 billion of the company's stock, has said Herbalife is focused on recruiting new participants into its network of independent distributors — rather than selling products to consumers — a hallmark of a pyramid scheme. The recruits are suckered into spending thousands of dollars on overpriced weight-loss shake powders and other wares that they can't sell, Ackman has said.
The high-profile campaign by Ackman's Pershing Square Capital Management hedge fund against Herbalife has prompted U.S. prosecutors in New York, the Federal Bureau of Investigation and the Federal Trade Commission to look into the dietary supplement maker's marketing and operations.
Ackman's methods have drawn scrutiny to him as well. The FBI is investigating a contractor hired by Pershing Square and whether false statements were made to regulators, two people familiar with the matter said in March. Ackman, who has denied any wrongdoing, said at the time that he was aware some of his contractors were contacted by the FBI.
SOURCE: BLOOMBERG