Kangzen Indonesia Convention Attracts 15,000 Attendees
June 21, 2015
By Team Business For Home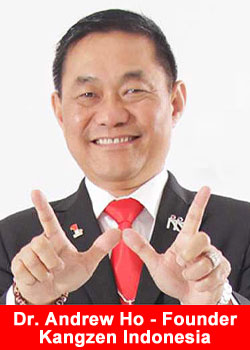 Kangzen Indonesia recently had its annual convention, and 7 countries attended with more than 15,000 people. The company is also know as KK Indonesia.
Top Earner Chandra Putra Negara was one of the keynote speaker, he is a MLM legend in Asia, has an organisation of 400,000 people in Indonesia, is 37 years young and is born in Indonesia. He started his career in Januari 1999. Chandra has hit the USA $20+ million mark in career earnings and he has the Top Rank of Chairman Platinum Millionaire in the Kangzen compensation plan.
Kangzen is a Thailand based MLM company and operates in Thailand, Laos, Myanmar, Vietnam, Cambodia, and Indonesia.
In the year 1993, Kangzen-Kenko International Company Limited has been founded by Komsaktana Ampanyuth as a complete Thai nationality direct selling company utilizes Multi-Level Marketing or Network Marketing business model in its operating, administering and management.
Kangzen is a member of the Thai Direct Selling Associations (TDSA) and a member of World Federation of Direct Selling Associations (WFDSA).
Kangzen Indonesia, headed by Dr. Andrew Ho since its establishment in Jakarta on 8th January 1999, KK has produced many entrepreneurs who lead a prosperous and ideal life.
About Kangzen Indonesia (KK Indonesia)
KK Indonesia is a prospective business, as it does not require a large start-up capital and having lower risk. KK Indonesia will consistently devote to help Indonesian become independent, successful, wealthy, and happy entrepreneurs.
KK Indonesia earnestness to achieve Vision Go 1% can be observed from the intensity of training programs and seminars that we held throughout the country. With many kinds of training and seminars, we expect the distributors become smarter and more alert for future business's opportunities.
Simultaneously, KK Indonesia also launches unique and innovative products, new product promotion, and LITo promo (Leadership Incentive Tour) to motivate distributors to pursue their dreams and enthusiastically helping other people to build their own success.