Morinda Named One Of The Healthiest Companies In The USA
June 7, 2015
By Team Business For Home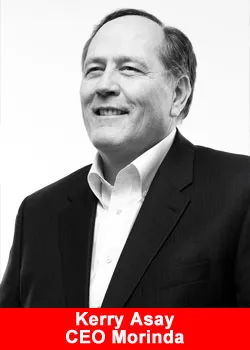 For the seventh year in a row, Morinda has been named one of the Healthiest Companies in America by Interactive Health, proving Morinda's commitment to its mission of helping people live younger, longer.
The list recognized 158 companies who achieved tremendous success in moving employees from high-risk health status to lower risk and achieving remarkably high employee participation in their wellness program.
Morinda is one of only two Utah-based companies to be included on the list, and has been included on the list each year since 2009.
These winners are a perfect example of how health outcomes can be improved throughout America, said Interactive Health President and CEO Cathy Kenworthy. Working with our company, preventive care programs are about much more than just losing weight or quitting smoking-they are a catalyst to transform the way people look at health, well-being and their lives overall.
In addition to providing employees access to their innovative, health-promoting products, Morinda employees have access to a company gym, health screenings, sponsorship for community fitness events, such as 5K races, and company fitness challenges.
As a company, Morinda is passionate about finding ways to improve the world's health, said Kelly Olsen, founder and Chief Marketing Officer of Morinda. But we don't stop at simply talking about health living, we ardently practice it. With our message of TruAge, we believe that we are positioned to stay at the forefront of the health conversation.
About Morinda
Founded in 1996, Morinda is a global, research-driven company with a mission to use the power of nature to help people live healthier, longer lives. Cutting-edge technology and extensive research have allowed Morinda to develop an innovative TruAge product line, as well as other natural wellness products that reflect its passion to help people live younger, longer.
Morinda is headquartered in Provo, Utah, and has a presence in more than 70 countries worldwide. Learn more at www.morinda.com.