USA Based G1E Builds Momentum In Asia
June 24, 2015
By Team Business For Home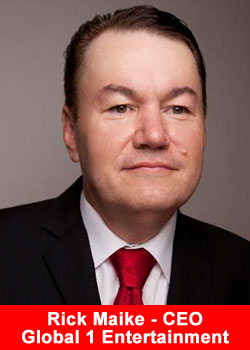 Global 1 Entertainment (G1E) is a worldwide leader in social media, gaming, audio-video communications and entertainment products, G1E helps connect people globally utilizing state of the art Social media and video platforms, allowing them to communicate, have fun and stay connected, all while building the business of their dreams.
G1E's products are marketed socially around the world with IBO's currently in 128 countries. Four weeks ago, G1E top leader, Richard Anzalone, traveled to Asia to introduce the new G1E Travel program to the Asian Market. He had no idea the response would be so explosive.
"I got in front of so many people who are begging for this travel concept especially when they see other programs out there," Richard said.
"We already have reps in China earning five figures in their second week in the business," Richard said.
One new rep from China, May Lee, created several hundred thousand dollars in sales in her first two weeks. And she has already prequalified for a Bronze $5000 Leadership bonus. Her sponsor, Kenneth Wong, earned a four figure Matching Bonus Check in one week as well. Two of May Lee's teammates, Jan Lee and Nina Yan, are thriving too. Jan Lee sold 35 VIP Travel Packages, which is over five figures in sales in one week.
The Chinese middle class is growing, based on many economic reports. The Chinese want to make money and they want to travel. But you don't need an economist to tell you that. A worldwide travel company held a recent Travel Event in Asia that attracted over 16,000 Distributors. There are few other Travel MLM's in China and the Asian travel demand grows.
Richard gives credit to Kenneth Wong, who engineered dozens of meetings filled with hungry entrepreneurs all over Asia – keeping Richard busy for four weeks. The most favored product, Richard said, was "the incredible savings of the G1E Hotel and Resorts Search Engine" compared to Priceline or Trivago. The savings go from 20-60%.
"We would do a booking battle right in front of them," Richard said. "We'd ask them to give us a time they were traveling and where they're going. Then we'd show them what G1E offers and what everyone else was offering for the exact same thing, side-by-side. The reaction is overwhelming. That's it! Within minutes, they are in!"
Richard's success in Asia was no surprise to his team back home. Susan Anzalone, another top G1E leader, knows how big the travel demand is worldwide. "Travel is an 8 Trillion dollar Industry, the largest industry in the world," Susan says. "And there are only 30-to-50 travel MLM's to compete with. Compare that to thousands of nutrition and skin care MLM companies competing in a much smaller market. This is the industry to be a part of"
G1E top leader, Faraday Hosseinipour, agrees. "What sets G1E Travel apart is the business model that attracts lots of happy customers. It's the Costco model of travel," she says, referring to the popular wholesale discount club. "We guarantee actual wholesale prices. It is not a markup from one of the online sites for a vacation no one wants. That means we beat everybody's travel price out there – every time. Being a travel member with G1E Travel gets you the best value – sometimes up to $100 a night."
Dave Manning, another top leader with G1E, agrees with all that and points to the G1E Travel Concierge Service. "We offer the dream of a lifetime travel experiences. People can travel like a millionaire but pay like a college student. Why put off fun, travel and exotic life experiences until you retire. Do it now. With the G1E prices, you don't have to."
About Global 1 Entertainment:
G1E was founded in 2013 by Rick Maike, Angela Leonard and Doyce Barnes. The three have a combined 70 years in the direct selling world as successful distributors and company owners.
Together they understand the needs of the field because they have been there themselves, but they also understand what it takes to run a successful network marketing company having done it twice before. They are among the few people in the Network Marketing industry that have started, built and run 3 successful MLM companies (as owners) that are all still in business today.