Usana Wins Industry Innovation Award
June 26, 2015
By Nicole Dunkley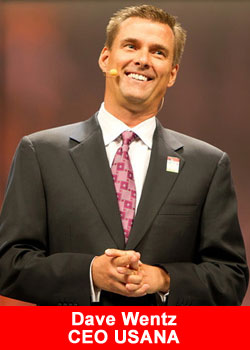 Imagine a tool specifically designed to help you take the first steps toward a healthier, happier life. That's exactly what USANA's True Health Assessment (THA) app is designed to do. The cutting-edge, portable health program provides a personalized approached to measuring your health and offers real-life solutions to help improve your lifestyle and nutrition.
At the Canadian Direct Sellers Association awards dinner and gala Wednesday night, USANA's THA was honored with the Industry Innovation Award. This award specifically recognizes innovative ideas and programs that contribute to the growth opportunities for entrepreneurs in the direct-selling industry.
The True Health Assessment takes into consideration multiple factors, such as personal goals, eating habits, exercise routine and more—and that information provides the consumer with a comprehensive understanding of their overall health status, said USANA's Executive Director of Health and Science Education, Dr. Brian Dixon. It then makes personalized fitness, nutrition, and lifestyle recommendations based on each individual's profile.
Since 1954, the DSA of Canada has upheld rigorous standards and good business practices and is the recognized voice of its industry. Currently Canada connects more than 900,000 Canadians in the entrepreneurial business.
We are honored that the DSA, which upholds trust and integrity in our industry, presented USANA with its Industry Innovation Award, said USANA's General Manager in Canada, Jeremy Lunt. We work extremely hard to provide our customers with the best, and receiving recognition with this award gives us a great sense of accomplishment.
This is the eighth award won for USANA's True Health Assessment app since its launch in November 2012.
For more information about USANA's products and company, visit USANA.com.
About USANA
Founded in 1992, USANA Health Sciences is a U.S.-based nutritional company that manufactures high-quality supplements, personal care and energy products in its FDA-registered facility in Salt Lake City. Learn more about USANA by visiting our website https://www.usana.com or the official USANA blog https://whatsupusana.com.