XANGO Veteran Leslie Gallacher Appoionted Company President
June 4, 2015
By Nicole Dunkley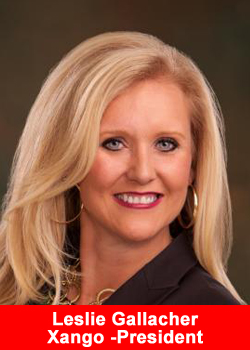 Global wellness and direct sales leader XANGO named 11-year company veteran Leslie A. Gallacher as its new president. Ms. Gallacher, who previously served as general counsel, will retain those duties and now have direct supervision of all company departments, including global operations, marketing, HR and IT. She will report directly to CEO Aaron Garrity and work closely with the board of directors. Gallacher assumed her new position effective May 6.
Leslie's appointment is one that our board, executives and distributor leaders have anticipated for some time, said XANGO Chairman and CEO Aaron Garrity. From her earliest days at XANGO, Leslie has fulfilled several key strategic roles within our organization and been instrumental in our growth and advancement as a company now in its second decade of global expansion. Leslie embodies the best of XANGO — excellence, empowerment and relentless commitment to our distributors — and she serves as a role model to our employees around the world that help make our company the success it is today.
In her expanded role as president, Gallacher will directly oversee all of the company's departmental functions, helping ensure successful implementation of the board of directors' strategic vision. Consulting with the board, Gallacher will help set corporate policies and direction while ensuring management's execution of key growth strategies.
Gallacher originally joined XANGO in 2004 as legal counsel and special advisor to Garrity, then company president. Since that time, she has been instrumental in helping open the majority of the international markets in which XANGO operates today and establishing the company's foundation for continued growth. Gallacher also has overseen marketing, product development, customer and distributor relations, legal affairs, industry relations, and distributor recognition. She played a leading role in XANGO's women's empowerment efforts, including the Women Building Bridges global training initiative and supporting internal leadership programs for emerging female executives.
I'm honored by the opportunity to serve in this position, and humbled by the trust invested in me by Aaron and our founders, the XANGO distributors and every company employee, said Gallacher. Over the past 11 years, I've been a part of the incredible story that is XANGO and I've invested — personally and professionally — in the commitment of our founders to help every individual associated with our company achieve their goals. I'm excited to continue building an enterprise that enables home-based entrepreneurs in nearly 50 countries the opportunity to build their businesses with a world-class brand. What I love most about this business is that anyone with a vision and work ethic can achieve tremendous success.
Among Gallacher's initial undertakings as president of XANGO will include driving the company's current preparation for what is expected to be its largest international convention yet, XANGO Rush, to be held Sept. 9-12 in Las Vegas, Nevada. Gallacher will introduce her vision as she speaks on stage to a crowd of many thousands of XANGO distributors and employees expected to be in attendance.
Gallacher holds a Juris Doctorate from the J. Reuben Clark Law School and a Bachelor of Science in Political Science from Brigham Young University. Prior to joining XANGO, she was a public prosecutor, corporate attorney and held a variety of other roles in both public and private law practices.
Said Garrity, There is no task too big for Leslie, and no limit to her vision for our company and our distributors. Because of the way she approaches our business, Leslie has earned the respect of her peers, employees, our distributors and the XANGO founders. By literally having impacted every function of our business, Leslie has been groomed to assume this responsibility and help drive XANGO's next wave of growth and success.
About XANGO, LLC
A leading global nutrition company, XANGO, LLC, is a recognized leader in health and wellness products. Currently expanding into a wider range of botanicals, XANGO was the first company to market a premium mangosteen beverage, XANGO® Juice, to consumers worldwide. XALO® Ageless by XANGO complements XANGO Juice to fight aging at the cellular level and rejuvenate the body and mind. XANGO's roster of premium, functional products also includes FAVAO™ by XANGO; the XANGO 3SIXTY5® multi-vitamin with a powerful Active Defense Complex featuring Primactive®; Glimpse® Topical Skin Nutrition; Eleviv® for natural, youthful vigor; Juni™ by XANGO® Family Care with natural, toxin-free personal-care products for the entire family; and the Precis® line of targeted nutritional supplements. XANGO is privately owned and powered by a global network of more than 2 million independent distributors in the U.S. and nearly 50 international markets, including Canada, Mexico, Australia, Japan, Russia, South Africa and more. For details, visit www.xango.com.