Beachbody On Demand Service Launched
July 17, 2015
By Team Business For Home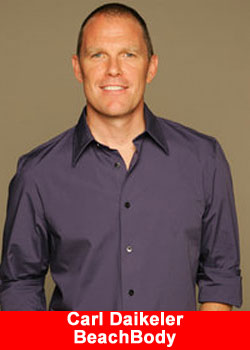 Beachbody, a leading provider of at-home and gym-based fitness programs, today announced the official launch of its streaming service, making it easy for anyone to work out anytime, anywhere, on any screen. The service, Beachbody On Demand, provides access to an extensive library of comprehensive programs and workouts such as P90X, Insanity, TurboFire, Body Beast, and Brazil Butt Lift, from a number of celebrity trainers including Tony Horton, Shaun T, Autumn Calabrese, Chalene Johnson and Sagi Kalev.
Since 1998, Beachbody has provided fitness, nutrition and weight-loss products and services to more than 20 million customers working toward their goals, and today features a network of nearly 350,000 independent coach distributors. Now rounding out its category leadership with a robust digital offering, Beachbody's beta-launch of its new streaming service provides customers with access to hundreds of online workouts, daily challenges, nutrition plans and support tools.
Beachbody On Demand is a milestone for the company, providing our proven fitness programs on a new platform accessible to anyone with an Internet connection, said Carl Daikeler, Chairman/CEO and co-founder of Beachbody. With a mission of helping people achieve their goals, Beachbody is once again making it easier for people of all ages to live more healthy, fulfilling lives.
Earlier this year, access to Beachbody On Demand was first offered to the company's team of Beachbody Coaches, who tested the service and provided feedback on the user experience. During its initial two-months, more than 1.5 million videos were viewed, totaling nearly 400,000 hours of video streamed through the service.
Beachbody On Demand is available to anyone with a connected device, from mobile phones and tablets to desktop and laptops, as well as on TV's through over-the-top (OTT) streaming devices including current generation Roku players and Roku TV™ models, Amazon Fire TV and Google Chromecast. Through these devices, Beachbody On Demand will play on some of today's hottest platforms, bringing the new streaming service to even bigger screens.
Celebrating the introduction of its new streaming offering, Beachbody is inviting everyone to start the service's free 30-day trial by joining in the Beachbody Super Workout, a one-hour live event led by some of the country's most popular celebrity trainers. More than 20,000 people will be participating in the Super Workout held in the streets of Nashville, and streamed live at BeachbodyOnDemand.com this Saturday, July 18 at 6 a.m. CST. This event is part of the company's annual Coach Summit, Beachbody's yearly gathering to introduce its latest products and offerings.