Belcorp's Eduardo Belmot Named CEO Of The Year
July 1, 2015
By Tina Williams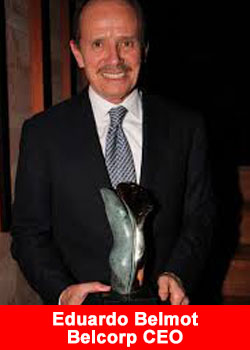 Eduardo Belmot, CEO of Peruvian direct sales company Belcorp, has been honored with a BRAVO Business Award in recognition of 'his committed action to the company's employees, consumers, suppliers, to the community and the environment, but most importantly, for improving the lives of hundreds of thousands of families through the support of more than one million female beauty consultants.'
Belmot was named Social Sustainability CEO of the Year in advance of the BRAVO Business Awards, which will be held on October 29, 2015.
Latin Trade Group, the company behind the awards, has released a list of six CEOs of leading Latin American companies to be recognised at the company's signature event.
"This first group of corporate winners includes a remarkable selection of the finest business minds in Latin America today," said Maria Lourdes Gallo, Managing Director of Latin Trade Group.
This first group of BRAVO honorees for 2015 includes Alberto Bailleres Gonzalez of Mexico's Grupo Bal; Juan Domingo Beckman, CEO of Jose Cuervo; Rodrigo Galindo, CEO of Brazilian Kroton Educacional; Thilo Mannhardt, CEO of Ultrapar; and Jose Alberto Velez, CEO of Colombian Grupo Argos.