David And Debbie Reeder Achieve Vemma Top 10 Income Earners
July 17, 2015
By Tina Williams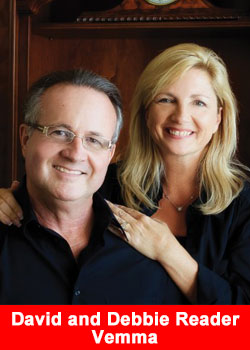 Industry veterans David and Debbie Reeder have hit Vemma's Top 10 worldwide income leaders list and skyrocketed to one of the company's highest ranks after just a few short years refocusing on their Vemma business.
"We have been very blessed to have great mentors and incredible reps to work with over the years. But we have never been as excited as we are now with Vemma," says David.

"We have Affiliates in over 50 countries in our Vemma organization and our organizations are experiencing tremendous growth in Latin America, Europe and Australia/New Zealand. And all this in only a few short years."
A few years ago, their hearts felt a tug to find a company they could "call home" for the rest of their careers. Only one option seemed to regularly resurface.
"We looked at every company out there and our process of elimination kept pointing back to Vemma and Vemma Founder and CEO BK Boreyko," shares David. "It became very obvious that Vemma continued to get better and better over the last several years. After doing our due diligence, we came to realize that, for us, Vemma was the No. 1 opportunity in the industry."
When David and Debbie returned to Vemma, they decided to join forces with industry superstar and Vemma Pinnacle Brian McMullen. The couple says they owe a lot of their success to his exemplary support and leadership skills.
"As an enroller, we have never seen anyone like Brian. He has the experience and the heart of a true leader," says David.
The Reeders, who are now Star Ambassadors, one of Vemma's top ranks, credit much of their success to a thriving Latino team of young people in the U.S., Colombia and the Dominican Republic.
"We love working with young people. To see 18- to 24-year-olds with the wisdom of someone much older is very impressive," says Debbie. "Learning the principles of business and personal growth at such an early age is giving these young adults such a lifelong advantage. Where else are they going to learn these skills?"
The Reeders say hitting Vemma's Top 10 Income Earners list is very exciting and fulfilling, but that now more than ever they are focused on helping others achieve their goals.
"We believe what John Maxwell says: 'everything rises and falls on leadership,'" says Debbie. "We take it one step further and believe that our responsibility is not only to develop followers, but to also develop leaders who can then lead others to develop as leaders themselves."
"Isn't that what it is all about? Paying it forward and leading the way for those who want a better life through network marketing and Vemma?" adds David.
About Vemma
Founded in 2004 by BK Boreyko and his two sisters, Karen and Lauren, Vemma Nutrition Company has become known as one of the premier industry leaders specializing in premium liquid nutrition. Every month, thousands of new customers experience the positive difference of the clinically studied Vemma Product..
The Vemma brands include the clinically studied Verve® healthy energy drink and Vemma Bod-e®, a transformational weight loss line. Vemma is headquartered in Tempe, Arizona, and distributes its products in 51 countries through global affiliate marketing. For more information, please visit Vemma.com.