iNovaLife Appoints Carlos Rey As Vice-President Of Sales
July 8, 2015
By Team Business For Home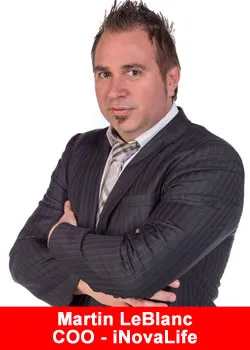 Version française ci-dessous
Founder and COO Martin LeBlanc announce Carlos Rey as new iNovaLife Vice President of sales in beautiful Quebec City, Canada, effective July 1st 2015.
¨We have been on the lookout and are always looking to expand our team with the best candidate available. Connecting with Carlos Rey was very refreshing, and bringing someone in who understands and had success in the service industry was part of our growth strategy in Canada.
We now have everything in place to consolidate our Canadian presence and are ready to execute our international expansion.
About Carlos Rey:
Carlos has created one of the largest direct selling organizations in the history of direct sales. He has reached the top position of two of the world's largest direct selling companies in record time. He accomplished this by helping hundreds and thousands to reach their goals.
His passion today is helping others.
¨My family and I came from Cuba to the United States when I was just one year old. My father was an entrepreneur and he started his own furniture business. He worked very hard and built a quite significant business.
Then unexpectedly, my father passed away and I took over the furniture business. In August 1992, Hurricane Andrew hit south Florida and we literally lost everything.
After the hurricane, I started working for a big company for a few years, and a friend of mine approached me about the networking industry. I thought it was telemarketing and I was not interested. It took him a year and a half to show me the business.
Reluctantly, I got involved. Then, I started making a little bit of money, and it all started to make sense. Our dreams and goals changed quite drastically. When we started the business, it was for my children's education plus I needed an extra income.
Since then, we have helped thousands of people around the world to become financially independent and have found my real purpose in life, helping others succeed. Most people try to achieve success without real goals and a specific plan to achieve them. I have dedicated myself to helping others and having better success overall, not just in business, but also on a personal level.
About iNovaLife:
iNovaLife is a young and dynamic company whose mission is as noble as innovative. In an effort to improve people's quality of life here, we have developed a tool completely free, which offers the consumers the opportunity to realize significant savings on a range of services.
iNovaLife's mission is to save thousands of dollars to Canadian families on their insurances, their mortgages, their credit cards, as well as their renovation project.
iNovaLife allows you to save through a secure platform and no user fees. You just need to have been invited by an affiliate promoter. It's simple, easy and efficient.
How does it work?
Using iNovaLife is free, quick and easy to use. Start by choosing a product to compare – insurance, mortgages, credit cards or renovation.
Our trusted partners will subsequently put you in touch with the company that offers you the lowest market price or rate. For more information please visit: Corporation iNovaLife Inc
iNovaLife nomme Carlos Rey à titre de vice-président des ventes
Le fondateur et chef de la direction Martin LeBlanc annonce Carlos Rey à titre de nouveau vice-président des ventes d'iNovaLife dans la merveilleuse ville de Québec, au Canada, à compter du 1er juillet 2015.
« Nous étions à la recherche et nous cherchons toujours à élargir notre équipe avec le meilleur candidat disponible. S'associer à Carlos Rey a été très rafraîchissant et le fait d'amener quelqu'un qui comprend et qui a eu du succès dans le secteur des services faisait partie de notre stratégie de croissance au Canada. Nous avons maintenant tout mis en place pour consolider notre présence canadienne et nous sommes prêts à réaliser notre expansion internationale. »
À propos de Carlos Rey :
Carlos a créé une des plus importantes entreprises de vente directe dans l'histoire des ventes directes. Il a atteint le haut de l'échelle de deux des plus importantes entreprises de vente directe dans le monde en un temps record. Il y est parvenu en aidant des centaines et des milliers de personnes à atteindre leurs buts.
Aujourd'hui, sa passion est d'aider les autres. « Ma famille et moi sommes venus de Cuba aux États-Unis lorsque je n'avais qu'un an. Mon père était entrepreneur et il a lancé sa propre entreprise de meubles. Il a travaillé très dur et il a bâti une entreprise très importante. Puis, de manière inattendue, mon père est décédé et j'ai pris le contrôle de l'entreprise de meubles. En août 1992, l'ouragan Andrew a frappé le sud de la Floride et nous avons littéralement tout perdu.
Après l'ouragan, j'ai commencé à travailler pour une grande entreprise pendant quelques années, et mon ami m'a approché au sujet du réseautage. J'ai cru qu'il s'agissait de télémarketing et je n'étais pas intéressé. Un an et demi plus tard il m'a montré l'entreprise. Avec réticence, je me suis impliqué. Ensuite, j'ai commencé à faire un peu d'argent et tout a commencé à avoir du sens. Nos rêves et nos buts ont changé dramatiquement. Lorsque nous avons lancé l'entreprise, c'était pour l'éducation de mes enfants et j'avais besoin d'un revenu d'appoint.
Depuis, nous avons aidé des milliers de gens autour du monde à devenir indépendants sur le plan financier et j'ai trouvé mon véritable objectif dans la vie, soit aider les autres à réussir. La plupart des gens tentent de réussir sans véritables buts ni plan précis pour les réaliser. Je me suis dévoué à aider les autres et à mieux réussir en général, pas seulement en affaire, mais aussi sur le plan personnel. »
À propos d'iNovaLife :
iNovaLife est une jeune entreprise dynamique dont la mission est aussi noble que novatrice. Dans un souci d'améliorer la qualité de vie des gens d'ici, nous avons mis au point un outil, tout à fait gratuit, qui offre au consommateur la possibilité de réaliser d'importantes économies sur un éventail de services.
La mission d'iNovaLife consister à faire économiser des milliers de dollars aux familles canadiennes sur leurs assurances, leurs hypothèques, leurs cartes de crédit ainsi que leur projet de rénovation. iNovaLife vous offre d'économiser grâce à une plateforme sécuritaire et sans frais d'utilisation. Vous n'avez qu'à avoir été invité par un promoteur affilié. C'est simple, facile et efficace
Comment cela fonctionne-t-il?
Utiliser iNovaLife c'est gratuit, rapide et facile d'utilisation. Commencez en choisissant un produit à comparer – assurance, hypothèques, cartes de crédit ou rénovation. Nos partenaires de confiance vont par la suite vous mettre en relation avec l'entreprise qui vous offre le prix ou le taux le plus bas du marché.
Nous joindre : Corporation iNovaLife inc. Martin LeBlanc Fondateur et chef de la direction Bureau : 418-476-7995 [email protected]