Primerica's Canadian Operations Hit C$100 Billion Milestone
July 1, 2015
By Nicole Dunkley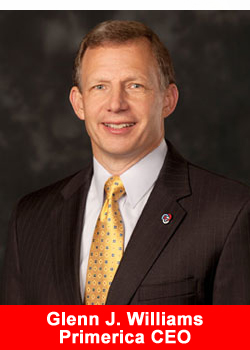 Primerica, Inc. (NYSE: PRI), the leading distributor of financial products to middle income families in North America, recently announced that its Canadian operations recently topped C$100 billion in Term Life insurance face amount in force.
"Primerica has been in Canada for 29 years, and reaching C$100 billion in term life insurance in force is a significant milestone for our company," said Jeff Dumanski, President of Primerica Canada. "This achievement is a direct result of the tireless efforts of almost 10,000 life insurance licensed representatives servicing their communities from coast to coast and the dedicated work of our Head Office staff. Thanks to their combined efforts, we have grown from a small start-up to become a true leader in the Canadian financial services industry."
John Adams, CEO of Primerica Canada, noted that 2014 was a strong year for the company. "Last year, the value of our clients' assets exceeded C$10 billion for the first time. We also paid more than C$100 million in death benefits, for a total of over C$1 billion in death benefits paid since our inception. 2015 began on a wave of strong momentum, and we have performed exceptionally well in the first 5 months of the year versus the same period last year.
Through May 2015, recruiting of new representatives has grown 27%. We have also experienced 8% increase in the face amount of Term Life insurance policies issued and 15% growth in our Investment and Savings Products sales in Canadian dollars. At a time when our clients need us most, Primerica is creating financially independent families like never before."
About Primerica, Inc.
Primerica, Inc., headquartered in Duluth, GA, is a leading distributor of financial products to middle income households in North America. In Canada, Primerica is headquartered in Mississauga, Ontario, where it has some 200 full-time employees. Primerica representatives educate their Main Street clients about how to better prepare for a more secure financial future by assessing their needs and providing appropriate solutions through term life insurance and segregated funds through Primerica Life Insurance Company of Canada, mutual funds through PFSL Investments Canada Ltd., as well as debt consolidation loans, disability insurance and other financial products, which we distribute primarily on behalf of third parties. In addition, Primerica provides an entrepreneurial full or part-time business opportunity for individuals seeking to earn income by distributing the company's financial products. Primerica insured more than 4 million lives and had over 2 million client investment accounts at December 31, 2014. Primerica stock is included in the S&P MidCap 400 and the Russell 2000 stock indices and is traded on The New York Stock Exchange under the symbol "PRI".