Vemma Unveils New Training System At Annual Convention
July 6, 2015
By Tina Williams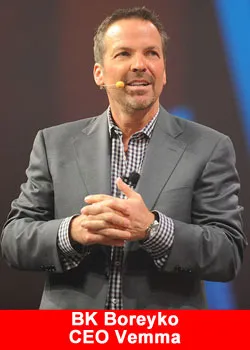 Nearly 11 years into creating a legacy company, Vemma Nutrition Company proudly presented a cutting-edge training and bonus program for its Affiliate business owners at its annual Convention held in Phoenix, Arizona June 11-13.
With thousands of Affiliates in attendance, the company's Founder and CEO BK Boreyko shared the details of the new Two & Go Action Plan, designed to provide its Affiliates with a seamless, step-by-step training program to fuel their businesses.
"Never in our 10-year history have we had a training system like this," explains BK. "Every leader is on the same page now."
The Two & Go Action Plan focuses on the Affiliate's first 60 days with the company, teaching them how to effectively help Affiliates expand their businesses. Along the way, the Affiliate has the opportunity to earn bonuses for attracting new Customers and Affiliates, may earn speed-related bonuses for helping others join in a rank advancement period and Vemma rewards them with bonuses each time they rank advance to a new level in the business.
Vemma Star Pinnacle and seasoned network marketing professional Tom Alkazin dug into the training system and educated thousands of Affiliates in small breakout sessions and one large training session while at the convention.
"We now have a uniform way of telling the Vemma story," shares Tom. "Duplication is a key principle in affiliate marketing and with Two & Go, we now have a simple way for anyone to teach someone how to be successful with Vemma."
https://www.youtube.com/watch?v=7tr7XGxU-mw
Following its launch at Vemma Training Convention, Vemma leaders are now traveling across 22 cities holding special Two & Go Ambassador Training events from San Diego to Baltimore through the end of the year to help train Affiliates on the groundbreaking new system.
BK says he's looking forward to a strong second half of the year: the company's already seeing growth since rolling it out just a few weeks ago.
"So many of our leaders are jealous of the new people coming in because they think about how much more successful they may have been if we had this system in place 10 years ago," says BK. "They are so excited about the opportunity to plug into the new Two & Go and get their teams moving. I expect big things for the rest of 2015."
https://www.youtube.com/watch?v=wXPPsmxKUoQ
About Vemma
Founded in 2004 by BK Boreyko and his two sisters, Karen and Lauren, Vemma Nutrition Company has become known as one of the premier industry leaders specializing in premium liquid nutrition. Every month, thousands of new customers experience the positive difference of the clinically studied Vemma Formula.
The Vemma brands include the clinically studied Verve® healthy energy drink and Vemma Bod-e®, a transformational weight loss line. Vemma is headquartered in Tempe, Arizona, and distributes its products in more than 50 countries through global affiliate marketing.
For more information, please visit Vemma.com