Wor(l)d GN – Alfonso Galdi CFO Interview
July 8, 2015
By Tina Williams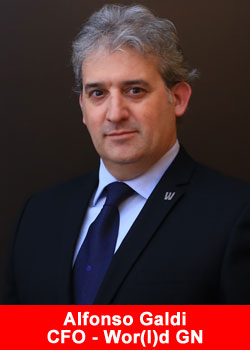 The countdown has begun for the opening of Wor(ld) Global Network's new office in Dubai. Reports are buzzing with the prestige this new branch promises to bring—one chosen by Chief Financial Officer, Alfonso Galdi.
Business for Home interviewed Galdi upon his return from Dubai:
Mr Galdi, World is also opening an office in Dubai. Can you tell us about where it is going to be?
While I'm not at liberty to disclose the location, I can confirm the news that has been circulating: that it will be a strategic branch vital to our company's growth in the Gulf market.
So will the office, then, hold a similar prestige as those in Miami, Moscow, London, Dublin, and Singapore?
Certainly. Our offices are all located in the heart of the business district, including those in Miami, Dublin, and Singapore. In Moscow we are just a short walk from the Red Square, while in London we are in the Royal Exchange, right at the center of the city. In the coming months, we will also be announcing the openings of our other offices—both in new markets, as well as those which reinforce our stake in current ones.
Are the openings of these offices connected to the openings of local businesses?
Yes, absolutely. We always strive to closer to our local distributors and to build upon the support we provide them by fostering a connection between those local businesses within our main markets, and global ones. Though we have become a global company, we continue to operate at the local level, offering different services to our various markets.
Are you saying that your services will be enriched through offers and agreements made with local partners?
Unfortunately, I'm not at liberty to reveal anything as of yet, but I will say that our development plan is one that will set us apart in the industry, in terms of the quality of our services. Also, new products will be revealed during the Diamond Life Tour in Istanbul, which runs from July 23rd to the 27th.
About Wor(l)d Global Network
World Global Network PLC., also referred to as World GN is a global multi million Dollar company that offers services in the telecommunications, renewable energy, technology and mobile advertisements. Its current headquarters is in the United Kingdom with its major offices in the United States, United Kingdom, Russia, Moscow, Ireland, China and Singapore.
For more information please visit www.worldgn.com