Annique CEO Appointed South Africa DSA Chairman
August 3, 2015
By Team Business For Home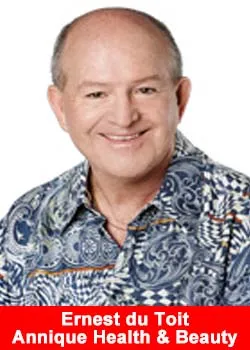 Ernest du Toit, CEO of South African direct selling company, Annique Health and Beauty, was appointed chairman of the Direct Selling Association of South Africa at a recent directors meeting in Johannesburg on 21 July 2015. He will replace out-going chairman, Richard Clarke, who has decided to focus on a new business venture, effective from 1 August 2015.
Ernest's career has seen him develop his skills in marketing, sales, strategy development and general management, over more than 20 years. During this time he worked with the packaging giant, Tetrapak, and at South African Breweries head office, after which he acquired and ran his own advertising agency. In 2007 Ernest assumed management of and ultimately acquired Annique Health and Beauty, which has shown exponential growth over the past eight years. Ernest became a Director of the DSA in 2002 and has served its vice chairman for the past five years. He was furthermore appointed as a board member of the World Federation of Direct Selling Association (WFDSA) in 2013.
With over two decades of experience in the world of direct selling, both in South Africa and internationally, Ernest says, There is no greater arena in the world than the direct selling industry, to fulfil my role as an optimiser of people's potential. It is gratifying to see lives turned around personally, professionally and financially; to see people realise their potential, to lift their self-limiting beliefs and to provide a vehicle for thousands of people to achieve their dreams, their passion and their purpose.
The DSA of South Africa represents 37 member companies.
About Annique
Annique has over 40 years of credibility in the Health and Beauty industry. The Company was founded in 1971 by Dr Annique Theron, who experienced the natural healing power of Rooibos first hand, while caring for her daughter, Lorinda. Today the company boasts over 200 products – unique in that they contain Rooibos extract. The products range from make-up and fragrances to skin-care products, health supplements, baby care and 9 varieties of Rooibos tea. All products are manufactured in South Africa and the company also exports its products to 18 countries, worldwide. Currently Annique has over 15000 active Consultants, in addition to its 80+ staff at Home Office in Irene, Gauteng.