Blyth Earnings Down 16% In Second Quarter
August 22, 2015
By Tina Williams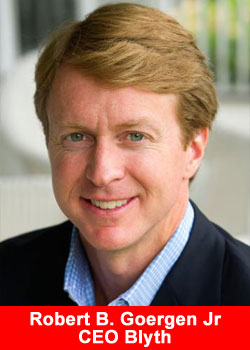 Greenwich-based home fragrance and decor company Blyth (NYSE: BTH) announced last week a 16 percent decline in net sales for the second quarter of 2015 over the same period a year ago.
Net sales were $88 million compared to $104 million a year ago. The performance is only the latest in a string of poor quarterly reports from the company, and as a result shares have continued to plummet. Shares hit a 52-week low of $2.90 Wednesday and were up 0.59 percent at the end of trading Wednesday, still down almost 63 percent over a year ago.
Operating losses for the company totaled $7.1 million for the second quarter, compared to $2.1 million a year ago. The company recorded restructuring and impairment costs of $2.4 million at PartyLite's manufacturing plant in Cumbria, England, related to the consolidation of candle production into a single manufacturing plant in Batavia, Ill.
The company also recorded charges of $500,000 for the integration of Native Remedies, a brand acquired during the first quarter under the Silver Star Brand's umbrella, and charges of $600,000 for the relocation of Blyth corporate headquarters. Excluding these charges, second-quarter operating loss this year was $3.7 million versus $2.1 million last year. The stronger U.S. dollar negatively impacted the operating loss for the second quarter by approximately $600,000.
Robert Goergen Jr., Blyth CEO, said the company continues to be hurt by the increasing strength of the U.S. dollar versus the euro, as well as the underperformance of the company in core European countries during the second quarter. The company has also experienced a decline in independent sales consultants, which are integral to the company's business structure.
"Our catalog and Internet segment sales gained over the prior year period, driven largely by the acquisition of Native Remedies earlier this year," Goergen said.

"Our development of a multi-channel strategy, which includes an intensified emphasis on new sponsorship, leadership development and growth in parties held, while consultants grow their businesses through a complementary eCommerce platform, should help to reignite the company's sales."
Blyth announced in May it would move its corporate headquarters out of Greenwich in September when the company's lease on East Weaver Street expires in an effort to cut costs and restructure the company. The headquarters will move to Plymouth, Mass., where it will share a building with Blyth subsidiary PartyLite.
Blyth headquarters have been in Greenwich since the company's inception 30 years ago when Robert Goergen purchased Valley Candle in 1976 in Brooklyn, N.Y.
A year later, Goergen and his colleagues acquired Chicago-based Candle Corporation of America. The company went public under the ticker BTH in 1994.
Today, the business has expanded internationally as a designer and marketer of home decor and fragrances, as well as health, wellness and beauty products, household convenience items, and personalized gifts sold through independent sales consultants.