Cindy Monroe: CEO Of $650 Million Thirty One Gifts
August 12, 2015
By Tina Williams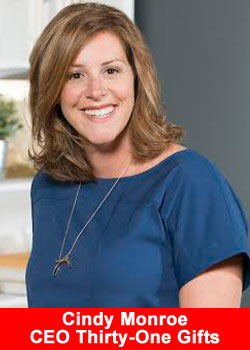 Creating a new business outlet for busy moms while also appealing to working women who can't shop during the day eventually landed Monroe on Forbes' list of "8 Self-Made Women To Watch In 2015," alongside Sandra Bullock and Jessica Alba, where her worth was estimated at $200 million.
The founder, president and CEO of Thirty-One Gifts has built her personalized purse-and-bag empire by understanding and appreciating what women want and need. As noted on the company's website, "Thirty-One was founded on the simple premise of empowering women by giving them the opportunity to own their own business."
Monroe's success has been enhanced by also being able to tap into others' expertise to help her develop as a woman business owner.
As Thirty-One Gifts looks to grow well past the billion-dollar revenue mark, Monroe put together an advisory board two years ago to guide her into unfamiliar territory.
"That has really been one of the best business decisions I've made," says Monroe, who cites Janet Meeks, recently retired CEO of Mount Carmel St. Ann's Hospital, and Kerrii Anderson, former CEO of Wendy's Corporation, as members. "I've surrounded myself with really smart people. They help me with, not only ideas about growing the business, but stabilizing the business."
Monroe started Thirty-One Gifts 12 years ago when she noticed a need in the market for personalized boutique items. "For me, I was like, I'm a working mom and these boutiques are closing at 6 o'clock, so, how would this work in the direct selling space so I could just attend a party or visit a website and buy something after hours?" From that initial concept she held her first party, and now she's heading up over 116,000 consultants in the US and Canada.
This kind of success is becoming more common as women increasingly operate their own businesses. From 1997 to 2015, American Express OPEN estimates the number of women-owned businesses in the US grew from 5.4 million to 9.4 million—a jump of nearly 74 percent. Those companies employ 7.9 million and enjoy annual sales of almost $1.5 trillion.
In Ohio, the growth rate is less robust, but women-owned businesses have still risen 43 percent from 205,044 in 1997 to today's estimated 292,400. Women-owned businesses in Ohio employ 288,100 and bring in $51.2 billion annually, according to the American Express OPEN report released in May.
Columbus CEO talked with a wide range of women business owners in Columbus about their experience and the importance of networking.
"Behind all of our products are the women who have the opportunity to start their own business," says Monroe. "I think that friends love to support other friends and they would rather buy from a girlfriend who's trying to help pay for her kid's summer vacation or private school or save for college, versus just a big-box store."
Source: Columbus CEO