David And Debbie Reeder – Vemma Hit Royal Ambassador
August 18, 2015
By Team Business For Home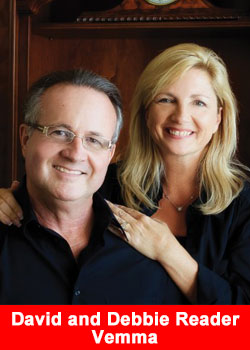 Six years ago, David and Debbie Reeder decided to leave Vemma to seek out another opportunity. "We were distracted," admits Debbie, reflecting on the four-year season. "You don't know what you have until it's gone." Exactly 26 months ago, the pair returned, but this time, they were different people with a different level of commitment.
"We made a decision to be committed. It wasn't 'we'll try this and see what it's like in six months,'" explains David. "If you want to be successful in this business, you have to have resolve. You'll find reasons to leave and shiny things that come along will take your focus off of what you want to accomplish."
That self-described "tenacious" nature has paid off this time around as the couple has diligently focused, built deep and continued to grow their team through networking and support. In one year, the couple has skyrocketed up the Vemma ranks from Star Presidential to now the company's newest Royal Ambassadors.*
But their success isn't an overnight one, cautions David.
"This all started with our young Latino population in Florida 26 months ago," shares David. "We worked on building our team every day and stayed focused. You can't expect your goals to happen within some imaginary time table."
Linking arms with the company, their upline leader Pinnacle Brian McMullen and their team members, their daily coaching calls, and regular trips to visit their teams around the world have translated into explosive growth with hundreds of Affiliates breaking new ranks recently: 163 Bronzes, 38 Silvers, 23 Golds, 10 Diamonds, 2 Star Diamonds, 3 Platinums, 5 Executives, 1 Presidential, 1 Star Presidential and 1 Ambassador, to be precise.*
International team growth has been a newer experience for Debbie and David, and they say it isn't about traveling sporadically to a region, but rather connecting regularly with people there, asking them who they know in the U.S. and who knows someone else in other Vemma Latino markets.
While the growth is exciting to the Reeders, ultimately, they say they're humbled and grateful to be an integral part of changing so many people's lives.
"Vemma is already making a dramatic difference in many people's lives in Colombia and we're just getting started," says David. "This isn't a party scene; it's a personal growth scene (in Colombia)." David continues, "They are just sincere, appreciative and hard-working people who are grateful for this opportunity. Really, the coolest thing is they're a humble, but confident people. That's a great combination."
Beyond connecting, Debbie credits Vemma's new Two & Go Action Plan as providing a solid, simple foundation to explain how Vemma Affiliates can create residual income. The couple stresses the importance of commitment at each meeting they host in the U.S. and Colombia, encouraging each young person not to view Vemma as the chance to make money and go, but rather a career path.
"This is not a two- or three-month deal to get a car or a gold watch," says David. "This is a career path. It's something a lot of young people in Colombia otherwise don't have." The new Royal Ambassadors are already planning another series of meetings in Colombia at the end of August and say their focus has never been stronger.
"We are very humble to be part of this and we believe Vemma is the next billion-dollar company," shares David. "Everyone is saying that, but they don't have all the right ingredients. We have the right Founder and CEO (BK Boreyko), the right products, and the right compensation plan. This all starts at the top. The horse is important in the race, but the jockey is critical."
"For the rest of our career, we're sticking with Vemma and BK," adds David. "Whether we make $1,000 or $100,000 a month, we're staying focused because we have the solid foundation: a qualified and skilled CEO who has integrity and honesty and understands the Affiliates, and the products, infrastructure and support critical for success."
So what is their secret to success? David sums it up in one phrase he repeats to his team regularly: "One team, one dream; stay focused."
About Vemma
Founded in 2004 by BK Boreyko and his two sisters, Karen and Lauren, Vemma Nutrition Company has become known as one of the premier industry leaders specializing in premium liquid nutrition. Every month, thousands of new customers experience the positive difference of the clinically studied Vemma Product..
The Vemma brands include the clinically studied Verve® healthy energy drink and Vemma Bod-e®, a transformational weight loss line. Vemma is headquartered in Tempe, Arizona, and distributes its products in 51 countries through global affiliate marketing. For more information, please visit Vemma.com.
*Your success is dependent on your efforts and leadership abilities. The Company has generally expected results which can be obtained by visiting the Opportunity section of www.Vemma.com.