Isagenix Announces Millionaire #161
August 13, 2015
By Tina Williams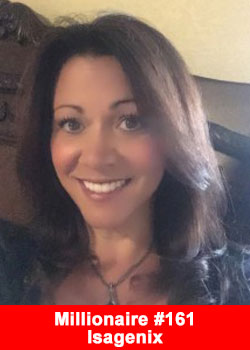 Wendy started her corporate career when she was in high school and stuck with it for 20 years. "I had to skip college and work full time so I could make more money to take care of my daughter," she says.
After a few years, she knew her corporate job wasn't part of her long-term goals, but Wendy had a baby girl at home and another one on the way, so she felt it was best to keep climbing the corporate ladder. Unfortunately, she was working long hours, spending less time at home, and knew without a college degree, her climb would be a lot harder than that of her co-workers.
The stress of knowing her potential was limited put a strain on Wendy's energy and eventually led to poor eating habits. Despite earning a six-figure income with her company, she knew something needed to change.
Making a Physical Change
It was around that time when Wendy was listening to the radio and heard a story that would change her life, though she didn't know it yet. "I listened closely as a woman on the radio told her story of releasing weight and increasing energy using Isagenix products—I knew I had to give these products a try," she remembers.
Wendy was exhausted, burned-out, and 100 pounds overweight before Isagenix. "My daughters were my number one motivation to commit to Isagenix," she exclaims. "My youngest daughter, Bryn, kept me on track, and I remember when I felt my hard work starting to pay off," she says. Wendy released 70 pounds* and knew she'd found something very special with Isagenix. "I couldn't wait to start sharing my journey and helping others achieve the same results," she states.
Making a Financial Change
Other network marketing companies pitched to Wendy, but she had no interest in the business—until Isagenix. She says, "My 'Why' for dedicating myself to the business was to help pay for my daughter to fulfill her dream of becoming a dolphin trainer." For Wendy, she was helping others use a product that worked for her and that she believed in. She never thought of Isagenix as a business but instead as a way of life.
Within four years of dedicating herself to her Isagenix business, Wendy was able to replace a corporate income** that had taken her over 20 years to earn. "One of the greatest feelings in the world for me was retiring from my corporate job to focus on my Isagenix business full time," she says ecstatically.
Creating a Better Future for Her Kids
Her daughter, Bryn, now 23 years old, achieved her dream and is now a dolphin trainer. Wendy says, "I'm so proud of Bryn for wanting to do something and doing it. I'm even more proud of her for following in my footsteps and building her own team with Isagenix!" More than 20 years ago, Wendy climbed the corporate ladder to financially provide for her and her family. But, now with Isagenix, Wendy climbs the ranks to create physical, financial, and time freedom for her family, herself, and now, her team. She is loving every minute of it!
Wendy says the best advice she can give is "Look in the mirror. If you want team members who are focused, determined, driven, energetic, and committed—then that's who you have to see looking back at you every morning."
Isagenix Millionaires are defined as Isagenix Associates who have cumulatively earned $1 million or more with Isagenix.
*Weight loss should not be considered typical. In a study performed in 2012 by University of Illinois at Chicago researchers, subjects lost an average of 9 pounds after 30 days on an Isagenix system. The subjects also had a greater level of adherence and had more consistent weight loss from week to week compared to subjects on a traditional diet.
**Earning levels for Isagenix Independent Associates that appear in this publication are examples and should not be construed as typical or average. Income level achievements are dependent upon the individual Associate's business skills, personal ambition, time, commitment, activity and demographic factors. For average earnings, see the Isagenix Independent Associate Earnings Statement found at IsagenixEarnings.com.
Source: Isagenix