Jusuru Product Named Editor's Choice Award Finalist
August 20, 2015
By Team Business For Home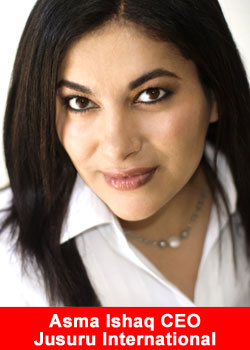 Informa Exhibitions has named Liquid BioCell™ Life by Jusuru International as one of its finalists for the 2015 SupplySide CPG Editor's Choice Awards.
Five 2014 consumer packaged goods (CPG) products were selected by the SupplySide editorial team for achievements in innovation and market impact in 17 different categories. Liquid BioCell™ Life was named to the short list in the Joint Health Supplements category. Primary consideration for the award will be given for unique formulation based upon research results, proof of high quality, certifications, branded ingredients, delivery innovation, and transparency in the supply chain. Liquid BioCell™ met the judging committee's high standards according to these areas of product evaluation.
One winner in each category will be announced at SupplySide West 2015 during the SupplySide CPG Editor's Choice Awards Presentations, set for October 7th and 8th at the Mandalay Bay Resort in Las Vegas, Nevada.
Jusuru president, Asma Ishaq comments, Being recognized by the SupplySide committee is a testament to the efficacy and quality of our Liquid BioCell™ Life product. SupplySide has been the nutritional industry's gathering point and we are more than honored to be chosen as a finalist for this award by an organization that is dedicated to the science, education, and innovation of the nutritional industry for almost twenty years.
Jusuru International was launched in 2010 with Liquid BioCell™ Life as its flagship product which is formulated with a patented, highly-bioavailable liquid collagen and hyaluronic acid matrix, resveratrol, and 13 antioxidant phytonutrient fruits. Backed by multiple clinical trials, Liquid BioCell™ Life improves joint mobility and lubrication, reduces discomfort, and promotes healthy cartilage and connective tissue. It was also clinically shown to reduce wrinkles from the inside-out without cosmetic injections, decrease dryness without the use of topical moisturizers, and reduce the enzyme that can make skin age.
In the past few years we've had tremendous success highlighting the products that are coming to market, driven by the innovative ingredients highlighted at SupplySide, said Heather Granato, vice president, content, in Informa's Health & Nutrition Network. In considering hundreds of products, our team narrowed the field based on the unique positioning and ability to serve consumers with truly cutting-edge products.