Nerium Achieves $1B In Sales – Less Than Four Years
August 29, 2015
By Nicole Dunkley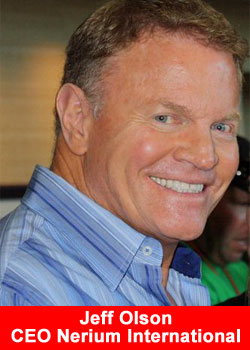 Nerium International, a leading relationship marketing company specializing in scientifically advanced, age-defying products, announced it surpassed $1 billion in cumulative revenue in under four years. According to Direct Selling News, this is one of the fastest any product-based direct sales company has reached this milestone.
Nerium accomplished this feat with 95% of sales coming from the United States. This achievement comes on the heels of Nerium debuting as the #1 consumer products and services company and the 12th company overall on the Inc. 500 list of the fastest-growing private companies in America.
Founded in August 2011 with just one product in its portfolio, Nerium quickly rose to success in its first year of business, accumulating more than $100 million in sales. It has since expanded its line of science-based anti-aging products, as well as increased its markets to include Canada, Mexico and South Korea.
When we started this company almost four years ago, we knew we had something very special. That we've sold over one billion dollars of product in four short years is a testament to the incredible products and opportunities Nerium has to offer. I'm extremely proud of what we've accomplished—we've changed thousands of lives for the better, said Jeff Olson, Founder and CEO of Nerium International.
Nerium's mission statement of Making People Better is the center of its business, emphasizing people over profit by making entrepreneurship accessible to Brand Partners around the world. These business partners are provided with exclusive, high-quality products to sell, as well as the tools, technology and assets necessary for managing a business on their own time.
Nerium has been on the fast-track for growth since its launch, said Direct Selling News Publisher and Editor-in-Chief Lauren Lawley Head. The company is one of the youngest to ever break into the Top 40 of the DSN Global 100 list of the world's largest direct selling companies and was among the fastest-growing of the Global 100 companies last year, with a net sales increase of 84%, and one of only 16 companies to grow by $100 million or more.
About Nerium International
Nerium International, LLC, headquartered in Addison, Texas, is a relationship marketing company that markets breakthrough anti-aging products validated by science. Since its August 2011 launch, Nerium has reached record-breaking sales and earned industry accolades while building a loyal customer base of millions in the U.S., Canada, Mexico, and South Korea. Led by an award-winning executive team with more than 220 years of collective industry experience, Nerium International is committed to developing and distributing anti-aging products that are rooted in real science, produce real results and improve consumers' lives. For more information, please visit www.nerium.com.