Sheri McCoy – Avon CEO Interview
August 30, 2015
By Team Business For Home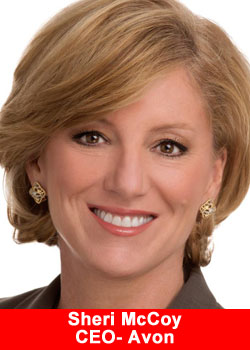 Sheri McCoy was named in April 2012 as the CEO of Avon Products. In 2014, McCoy ranked #27 on Fortune magazine's 50 Most Powerful Women in Business list, which she has been on since 2008
Sheri is at the helm of almost $9 billion in annual sales and Avon has a sales force of 6 million direct selling Representatives in nearly 100 countries, 30,000+ employees worldwide.
The company has empowered and inspired women for nearly 130 years. Sheri lives in New York, USA, is married and has 3 children.
As a scientist, Sheri holds a Bachelor of Science degree in textile chemistry from the University of Massachusetts, Dartmouth, USA a master's degree in chemical engineering from Princeton University, and an MBA from Rutgers University and holds four U.S. patents.
Ted Nuyten had the honor to interview Sheri McCoy in Orlando, Florida, USA during the Avon National Leadership Conference.
Sheri, how fun is it to be in the field here in Orlando?
I always enjoy being able to go out into the Field and spend time with our Field Leaders and Representatives, it's the best part of my job. Avon's Representatives are the heart of our business and our number one priority is supporting them.
I'm excited to have a chance to get to spend time with so many Representatives and Field Leaders at this conference and get to hear from them directly about their businesses.
Do you spent a lot of time in the field?
I try to spend as much time as I can with our field. As I previously mentioned, the Representatives are the heart of our business. In addition to spending time with the Field in the U.S., I am constantly travelling to other markets around the world for meetings, business reviews and events. When I am there, I always make it a priority to meet with local Representatives.
It is important to get their perspective on the business and see what we can do better to meet their local needs.
Behind every lipstick we sell at Avon is a woman working

to provide a better life for herself and her family.

I am proud that this has been our mission since 1886

– Sheri McCoy-
What was your opinion about Direct Selling, Multi Level Marketing before you joined Avon?
I always knew about direct selling and multi-level marketing, but before I came to Avon, I did not truly understand the positive impact that the industry has on so many people's lives.
Avon provides an earning opportunity to women and men around the world. We hear from many of our Representatives that joining Avon changed their lives. It provided them with the income they needed to help pay a bill or a mortgage or fund the "extras" for their family. Many of our Representatives started small, and have now grown their businesses through our Leadership program. Our Leadership programs enable Representatives recruit, mentor and train other Representatives. These leaders are empowering their teams to build better lives for themselves and their families.
I read that you believe in the marriage of E-commerce / social and direct selling, how does that help an Avon rep?
The power of Avon's business model is tapping into women's social circles. That's as relevant today as it ever was. Now, there are additional ways for our Representatives to reach their customers. We provide our Representatives with digital tools to enhance the relationship they have with their consumers.
Representatives have eStores where their customers can shop and place orders. We also provide Representatives with access to a suite of social media tools and they can share all of our well-produced digital marketing materials with ease – online, on their phones, wherever they are.
Sheri McCoy and Ted Nuyten In Orlando – USA
With the fierce competition, how does Avon makes it attractive to sign up as an rep?
We are always looking into way to make it easier for our Representatives to succeed. In today's digital world, we know that many people want to sell online and as I mentioned earlier, we provide our Representatives with the tools they need to do that. We have a powerful brand and great products that Representatives and consumers love.
We also try to make it as easy for someone to join Avon, whether that is in person with another Avon Representative or online at avon.com. For a minimal cost and in about five minutes, someone can sign up and become an Avon Representative.
You put the Avon's reps and customers at the center of every solution, how does Avon do that?
All of our 30,000+ Associates know how important Representatives and customers are to our business. We would not be here without them. We make sure to put our Representatives at the heart of every decision we make. If it does not benefit the Representative, then we do not do it.
What advice could you give an Avon representative to build up her business?
I encourage our Representatives to find a mentor, someone they can and learn from. Mentors come in a variety of forms and they can offer support in many different ways. Sometimes they encourage you, sometimes they offer a contrary point of view, sometimes they point out your shortcomings and sometimes they just give you a push when you need it.
Our most successful Avon Representatives are ones that know how to mentor others, to nurture to build self-esteem and develop the leadership skills of the women around them.
About Avon Products, Inc.
Avon is the company that for more than 125 years has stood for beauty, innovation, optimism and, above all, for women. Avon, with nearly $9 billion in annual revenue, has products that are sold through 6 million active independent Avon Sales Representatives worldwide.
Avon products include color cosmetics, skincare, fragrance, and fashion and home, featuring such well-recognized brand names as Avon Color, ANEW, Avon Care, Skin-So-Soft, and Advance Techniques. Learn more about Avon and its products at www.avoncompany.com.