Talk Fusion Associate Sees The Future For Brazil And Beyond
August 26, 2015
By Nicole Dunkley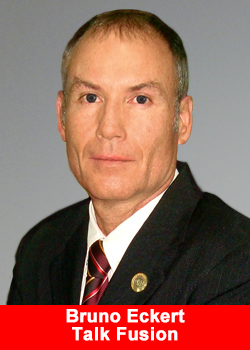 Double Diamond Associate Bruno Eckert has traveled and lived around the world, making friends in many countries throughout his journeys. When he joined Talk Fusion, he was able to draw on these international contacts from his Facebook, Instagram, and email to create a powerhouse international team. But his heart has always belonged to Brazil.
"While my focus has always been to build a global team, but I´m really positive about Brazil," he said. "I know the Brazilian people very well and know that every Brazilian's dream is to become his own boss and have his own business."
Bruno had that dream himself, but was always held back by working for someone else. "I had a whole lot of problems with traditional businesses over the years. The social situation in Brazil is very hard for people to make money with an ordinary job. Everybody needs a second job or extra income. Talk Fusion is just perfect because we can do the business from the comfort of home."
Bruno was introduced to Talk Fusion "by an old friend who I trusted. I got into the business straight away." He immediately escalated his business and moved up five ranks in two months. By applying that same work ethic and dedication, in just one week during July he jumped two more ranks to Double Diamond, qualifying him for Talk Fusion's industry-famous Dream Getaway to Hawaii in December.
Bruno has looked forward to visiting Maui for some time. "As a surfer, I always wanted to get to know Hawaii and the epic waves." Now he'll get the chance to see the sites and the surf firsthand, all while encouraging his team to qualify and attend with him.
"As with every business, a strong team is the most important element for success. They not only help me and my family, but I get to show all of my team members that they, too, can achieve the Dream Lifestyle they seek."
It's not just the team around him in Brazil; as he has shown by recruiting his global contacts, Bruno feels that Talk Fusion is a truly international business opportunity. "People all around the world are not happy with their lifestyle. They are looking more and more for extra income and a better lifestyle. That´s why right now Talk Fusion—with its Instant Pay Compensation—is a perfect solution for those people."
According to Bruno, Instant Pay makes a huge difference over companies that pay monthly, biweekly or weekly. "Instant Pay gives us Associates a lot of confidence and security," he said, "especially in countries like Brazil where people have to pay for dinner at night with what they earned during that day. What I can say? I love Instant Pay!"
Even more than Instant Pay, Bruno is in love with his new Dream Lifestyle. "I work from home and get to stay close to my family, wife and kids. I have much more time to spend with them. Actually, I can take my kids to school every day and bring them back. That's something other parents rarely can do, but I can thanks to Talk Fusion."
ABOUT TALK FUSION
A trend-setting industry leader, Talk Fusion has been connecting people around the world since 2007 through cutting-edge video technology for social and business communication. Talk Fusion's innovative video products are marketed person-to-person by independent Associates in more than 140 countries, empowering them to earn the financial freedom to live their dreams.
Founded in 2007 by CEO Bob Reina, Talk Fusion introduced the world's first Instant Pay Compensation Plan. Talk Fusion adheres to the highest ethical business practices and is a member of the prestigious Direct Selling Association (DSA). Reina firmly believes that "with great success comes greater responsibility."
Talk Fusion fosters a strong commitment to giving back to friends, family, communities, and animal charities across the world to produce a positive global change. Learn more at www.TalkFusion.com and "Like" Talk Fusion at www.facebook.com/TalkFusion.
Income Disclaimer:
Any earnings portrayed in any Talk Fusion marketing materials are not necessarily representative of the income, if any, that a Talk Fusion Associate can or will earn through his or her participation in the Talk Fusion Instant Pay Compensation Plan. All references to income, implied or stated, throughout the Talk Fusion Instant Pay Compensation Plan are for illustrative purposes only. These figures should not be considered as guarantees or projections of your actual earnings or profits. Talk Fusion does NOT guarantee any level of income or earnings to any Associate; any representation or guarantee of earnings would be misleading. The purchase of a Talk Fusion Product Package is completely optional and is not required for an Associate to participate in the Talk Fusion Instant Pay Compensation Plan.