DubLi Network Receives ETI Award 2015
September 24, 2015
By Team Business For Home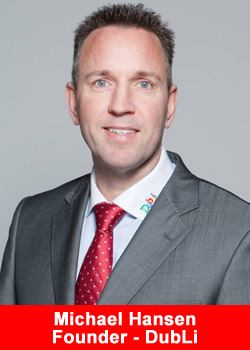 DubLi Network, the world's largest ecommerce direct selling company and network for Cash Back shopping, today announced that it has been awarded the Network-Karriere ETI Award for Expansion-Technology-Innovation.
Presented at the annual DubLi Summit 2015 for Independent Business Associates and partners, the prestigious award recognizes companies who are demonstrating exceptional innovation in technology and are making dynamic strides within the network marketing and direct selling industry.
"DubLi Network uniquely understands how tomorrow's online and mobile technologies are transforming the traditional network marketing and direct selling business model, and they continue to be an exciting company to watch, delivering a standout performance within the industry," said Bernd Seitz, Publisher for Network-Karriere, Europe's leading Network Marketing magazine.
"I have been particularly impressed by all of the new innovation being showcased at DubLi Summit 2015, where executives are presenting the latest in education, recruiting, marketing and customer-facing platforms for their Independent Business Associates. I am pleased to present DubLi Network with the ETI Award 2015 – making this the second time that we have recognized DubLi with our honorable business award."
DubLi Network creates tremendous opportunities for entrepreneurs to build global network marketing organizations that focus on consumer ecommerce purchases "VIP" memberships for DubLi.com, the pioneer in pure-play Cash Back online travel and shopping.
DubLi Network's unique business model is highly efficient and fully scalable as it does not require any physical inventory. It generates incremental sales only paid out when a purchase decision is made– enabling entrepreneurs to generate earnings from Cash Back savings on the millions of products and services that consumers buy online every day. This gives Business Associates the opportunity to build a rewarding career or second income stream.
"Network-Karriere is one of the most respected network marketing publications in the world, and I am honored to accept the coveted ETI Award 2015 on behalf of the DubLi Network management team and our global independent Business Associates," said Michael Hansen, DubLi's Founder.
"DubLi Network is the global leader in providing ebusiness network marketing opportunities to Business Associates in over 100 countries and in more than 15 languages. This award recognizes years of behind-the-scenes innovation in Cash Back shopping for worldwide shoppers, and new network marketing tools that enable unprecedented levels of success for our Business Associates."
To learn more about DubLi Network, visit https://www.dublinetwork.com.
About DubLi.com
DubLi.com is a global leader in online shopping and Cash Back rewards to customers worldwide. DubLi is emerging as a leading ecommerce platform offered through network marketing, currently serving customers in more than 120 countries. E-shoppers can browse through different categories, which feature international and local brands, travel, coupons, discounts and vouchers.
DubLi has adapted its multilingual and multi-regional ecommerce platform to serve 12 international markets in local language and currency to strengthen its global ecommerce presence and encourage sales in its countries of operation. Depending on the market, DubLi.com features the world's most popular brands including Amazon.in, Walmart, Nike, Hotels.com, Zalando, Groupon and Expedia.
Since its founding by Michael Hansen in 2003, DubLi has offered entrepreneurs the opportunity to create their own distributor organization by joining the direct sales company, DubLi Network (dublinetwork.com). The global network of independent distributors generates traffic and the resulting sales to DubLi.com as well as markets a variety of memberships.
DubLi and DubLi Network are subsidiaries of Ominto, Inc. and are headquartered in Seattle, Washington.