DubLi Summit 2015 Kicks Off in Dubai
September 16, 2015
By Team Business For Home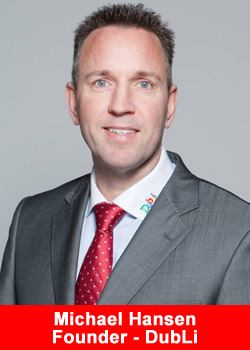 DubLi unveils Cashback Shopping Innovations and Network Marketing Education Initiatives. Annual DubLi Network event draws business leaders from over 30 countries; keynote from legendary network marketing trainer Tom Big Al" Schreiter
DubLi Network, the world's largest ecommerce direct selling company and network for Cashback shopping, today announced that its annual event for Business Associates and partners, DubLi Summit 2015, will take place Sept. 18-20, 2015 at the Atlantis, The Palm, Dubai.
This global event brings together Independent Business Associates, partners and special guests from over 30 countries to unveil innovations in Cashback shopping for worldwide shoppers, and new network marketing tools that enable unprecedented levels of success for DubLi Business Associates.
This years' DubLi Summit marks an important milestone for our company as we are able to showcase strategic innovations and developments that we have been quietly working behind the scenes on for the last few years, said Michael Hansen, Founder of DubLi.
The Internet and mobility are changing the way that network marketers grow their businesses, and are big reasons that our ebusiness model has thrived for over twelve years. We are at the forefront of new education, marketing and customer-facing tools that will continue to transform the DubLi value proposition for Business Associates and consumers, and we look forward to unveiling these strategies and tools in Dubai.
One of the features of this year's DubLi Summit is the multi-part keynote that will be given by legendary network marketing trainer Tom Big Al Schreiter where he will share specifics behind his long-lasting success and unique training methodologies that have helped him to build one of the largest, active databases in direct selling history and assemble a 100,000 plus distributor organization in less than two years that has done over a billion in sales.
Click here, to see Mr. Schreiter addressing DubLi Business Associates ahead of DubLi Summit 2015.
DubLi Summit 2015 will also showcase important milestones in the company's 12-year history and discuss its future strategy for growth. The event will feature technology updates behind the upcoming launch of the enhanced DubLi.com shopping portal, DubLi Network's primary product and a series of professional development sessions from industry and company leaders designed to train and educate DubLi Network Business Associates and help them grow their businesses.
By offering critical training and education, the annual DubLi Network Summit has become a significant event that sets the stage for growth for the rest of the year, said Mr. Hansen. By attending, Business Associates acquire new skills and renewed levels of motivation that help them build their teams, generate new leaders and create momentum in their businesses.
About DubLi.com
DubLi.com is a global leader in online shopping and Cashback rewards to customers worldwide. DubLi is emerging as a leading ecommerce platform offered through network marketing, currently serving customers in more than 120 countries. E-shoppers can browse through different categories, which feature international and local brands, travel, coupons, discounts and vouchers. DubLi has adapted its multilingual and multi-regional ecommerce platform to serve 12 international markets in local language and currency to strengthen its global ecommerce presence and encourage sales in its countries of operation. Depending on the market, DubLi.com features the world's most popular brands including Amazon.in, Walmart, Nike, Hotels.com, Zalando, Groupon and Expedia.
Since its founding by Michael Hansen in 2003, DubLi has offered entrepreneurs the opportunity to create their own distributor organization by joining the direct sales company, DubLi Network (dublinetwork.com). The global network of independent distributors generates traffic and the resulting sales to DubLi.com as well as markets a variety of memberships.
DubLi and DubLi Network are subsidiaries of Ominto, Inc. and are headquartered in Seattle, Washington.