Javita's Dr. Chi Joins Company's Million Dollar Club
September 30, 2015
By Team Business For Home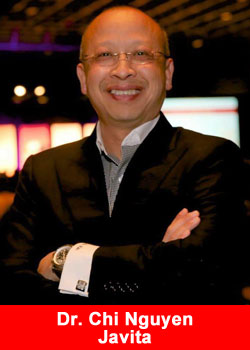 Javita's Royal Black Diamond Dr. Chi Nguyen is the newest Member to join the company's Million Dollar Club.
"I feel humbled and blessed to be a part of the Million Dollar Club. I owe the success to my team — The Million Dollar Team," Dr. Chi said.
Dr. Chi joined Javita in 2012 and has been experiencing incredible success ever since, climbing through the ranks along the way and accumulating some of Javita's most prestigious accolades.
Most recently, at the Company's National Convention in August, Dr. Chi received the 2015 President's Award, which recognizes the Member who exemplifies Javita's values and core principles and commitment to others success.
"Without the combined efforts of everyone, this would not have been possible. It took lots of work, commitment and sacrifice to have success," said Dr. Chi.
To be a part of Javita's Million Dollar Club, Members must have earned $1 million dollars in lifetime earnings with the Company.
Prior to joining Javita, the Bakersfield, CA native was a full-time foot and ankle surgeon working endless hours. Now, Dr. Chi practices his passion for being a surgeon part-time. Dr. Chi said he hasn't given up on helping people live a better life, additionally, he is helping them in another way through Javita.
"I am fully committed to Javita because there are more lives to change. I'm looking for the next group of individuals who are willing to take the challenge to work with me to spread health and wellness throughout the world," said Dr.Chi.
Dr. Chi said the Javita opportunity came to him at the perfect time in his life. Familiar with seeking opportunity, Dr. Chi and his family fled the Vietnam War to America when he was just a young boy in hopes of a better life.
Upon arriving to America, Dr. Chi knew he had to excel in school and make something of himself to help take care of his family. Javita has allowed Dr. Chi to continue fulfill this promise.
"I joined Javita to have the opportunity to give my family and children a brighter more stable future, but more importantly I envision that Javita will provide the means to provide better health for the masses," Dr. Chi said.
About Javita
Javita, with global headquarters in Boca Raton, Florida, is a company committed to changing the lives of millions of people by bringing together healthy coffee and other beverages with direct selling. Javita offers healthy, unique, great tasting products and an incredible business opportunity that can enhance people's lives – one cup at a time.
The company has offices and warehouses in North America, Europe and Asia and does business in more than 30 countries globally. Millions of people already have coffee in their life, Javita gives you coffee for your life. For more info please visit www.javita.com