Jusuru Launches New Products, Plan, System At National Convention
September 18, 2015
By Team Business For Home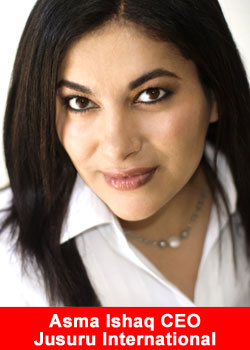 At their 6th annual national convention, Rise to Enterprise 2015 (R2E15), Jusuru International announced the launch of two new product extensions, an expansion plan, and a new business system, all strategically designed to set the stage for the company's next phase of growth.
Liquid BioCell™ PURE, a liquid nutraceutical, was launched to strategically expand Jusuru's market, both nationally and internationally. As an extension to Jusuru's signature Liquid BioCell™ product line consisting of LIFE, SPORT, and SKIN formulas, Liquid BioCell™ PURE meets the needs of consumers with special dietary restrictions. The new PURE formula consists of pure, concentrated Liquid BioCell™, has less than 5 calories per serving, and is sugar-free with zero carbs.
Additionally, the company launched Liquid BioCell™ Singles, single serving pouches of each of its liquid nutraceuticals. Liquid BioCell™ LIFE, SPORT, SKIN and the newly launched PURE will all be available in the Singles packaging for convenience, travel, and sampling.
With a standing room only crowd at the Tropicana in Las Vegas, Nevada, the event began with a Rewards and Recognition Gala, which celebrated the company's independent representatives' achievements and growth. The event escalated with new product announcements, extensive training by Jusuru's Scientific Board, inspirational stories from professional athletes, and a captivating keynote address by special guest, Robert Kiyosaki.
Jusuru President Asma Ishaq commanded the audience as she stated, Liquid BioCell is the premier source of collagen with a unique naturally-occurring matrix of hydrolyzed collagen type II, hyaluronic acid and chondroitin sulfate and a patented manufacturing process that produces an ideal molecular weight that the body can actually absorb. With nearly 20 years of research and development, human clinical trials, and a multitude of awards, Liquid BioCell is the leading product of its kind. Our goal is to be the most recognized source of collagen in the world.
Liquid BioCell™ has won numerous industry awards, holds 7 US and international patents and is backed by 37 clinical trials. Noted awards include Best Bone and Joint Health Ingredient and Personal Care New Product Innovation by Frost and Sullivan, Most Innovative Dietary Ingredient, Exemplary US Brand, and most recently in 2015 Liquid BioCell™ became a NutraIngredients Readers' Ingredient of the Year Award Winner, TasteForLife Anti-Aging Award Winner, and Remedies Magazine Editor's Pick. The product is also a finalist in the Joint Health category for Informa's SupplySide Editor's Choice Award, for which the winner will be announced next month at the SupplySide West Expo in Las Vegas.
Ishaq also announced that through its partner, Vitamin Angels, Jusuru representatives have helped save the lives of 78,736 children around the world. Vitamin Angels is an international non-profit that helps at-risk populations in need – specifically pregnant women, new mothers, and children under five – gain access to lifesaving and life-changing vitamins and minerals. In the shopping cart of Jusuru's website, buyers have the ability to choose to donate $1, $5, or $10 as they check out. Every $10 donation provides life-saving vitamins to 40 children for an entire year. Jusuru matches every donation. This year, Jusuru representatives also visited the destitute village of La Jungla, Mexico and commissioned the building of a well, providing clean water for the community, and delivered essential supplies to the impoverished community as part of the company's Buckets of Hope initiative.
All of the announcements made at our sixth annual convention are the proud result of an incredible leadership team at the home office and in the field. It was certainly our best year and event in our company's history, and we will continue to deliver the enthusiasm, investment in growth, innovative marketing tools, and dedication to science-based products for our consumers and representatives into an exciting future, stated Ishaq.
Anticipating record growth and expansion in the coming year, the company announced its next annual conference, R2E17 will be held in Orlando, Florida February 23 – 25, 2017, along with a series of regional events across the U.S. in 2016.