Laguna Blends Debuts With Health Canada-Approved Hemp Protein Coffee
September 23, 2015
By Team Business For Home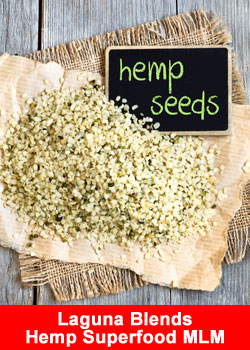 Canada's Laguna Blends debuts on the public markets today, alongside an announcement that its primary product SKU has been approved by Health Canada as a Natural Health Product.

The company, which came to notice when it was the first vendor to purchase hemp protein formula from Naturally Splendid will be launching its products into MLM networks in the coming weeks, with celebrity endorsements and an advanced technology platform for sellers to sign up, train, sell products and order more inventory.

The company will open business with its Pro369 Hemp Protein Coffee product, which offers more than 30g of water soluble protein in both hemp and whey form, omega-3 and -6 fatty acids, and artisan grade coffee, with ginseng and manroot added.

The Health Canada approval brings the product a Natural Product Number (NPN), the first hemp flavoured product approved for sale in this way in Canada to date.

To receive a number, an applicant must offer detailed information about medical ingredients, source material, dosages, potency, non-medicinal ingredients and recommended use. Safety and health claims must be supported by in-depth scientific evidence. The Health Canada blessing means the product has been deemed safe, effective and of high quality.

As part of the transition to Laguna Blends proper, Stuart Gray has been appointed CEO, CFO, President and Director of the new company.

The multi level marketing scene has been blowing up over the last few years, with a multitude of companies rising from rags to riches within a handful of years on the back of extensive sales networks which can run thousands deep. Those networks are often the main source of commerce for many communities in the developing world, and increasingly the first world, where traditional retail outlets are losing ground to online sales and face to face business.

Laguna has opted to invest in a new MLM technology, similar to the old Second Life game, where affiliates can meet, chat, train, place orders, get product information, sign up and more. The technology, currently in use at one of the largest real estate companies in the world, promises to help sales leaders end the old practice of endless conference calls, and hotel ballroom bookings, as they keep their networks informed and motivated.

The Laguna/Naturally Splendid deal will send up to $5 million a year to NSP for providing the formula used in Pro369, with $100,000 already having been submitted.