Laguna Blends Promises To Change Direct Selling Perception
September 28, 2015
By Team Business For Home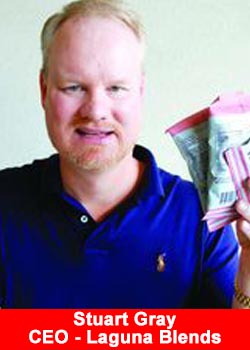 He knows network marketing, aka bugging everyone you know to buy the stuff you represent, has a major negative stigma.
So Stuart Gray, the CEO of Kelowna-based hemp beverage company Laguna Blends, vows to make his direct selling company different. "We're facing the negativity up front," said Gray.
"We have what we believe to be the game changer in the direct selling game. It's the cool technology at LagunaWorld.com with the kind of virtual community where members can train and recruit other members and customers an not be embarrassed."
The virtual world is impressive.
The Laguna Blends campus is on the ocean in beautiful, palm-treed Laguna Beach, Calif. and has potential customers via email for slick presentations ranging from 90 seconds to several minutes.
Laguna has two main products: an instant coffee with hemp protein and PRO369, a hemp protein power to mix with water or milk or blend into a smoothie.
"With all the hype about medical marijuana, we found the bigger opportunity is actually in the nutritional benefits of hemp," said Gray.

"They are both from the same plant, but hemp doesn't have the chemical that makes you high."
In fact, Laguna Blends' hemp drinks can make six Health Canada claims such as building and repairing body tissues, improved muscle protein synthesis, building of lean muscle, maintain healthy immune system, promote healthy glucose levels and help relieve nervousness.
Laguna Blends products are used and endorsed by football wide receiver Emmanuel Arceneaux of the B.C. Lions.
Shares of Laguna Blends have also just started to to trade on the Canadian Securities Exchange.
About Laguna Blends
Laguna Blends Inc. (Laguna) is a network marketing company focused on the nutritional health benefits that are derived from Hemp. Laguna has independent affiliates that generate retail sales and have the ability to recruit other affiliates. Affiliates utilize the latest tools and technology to enable them to build an International business from the comfort of their own home or while traveling on the road.