Q Sciences Listed As One Of The Fastest Growing Companies
September 26, 2015
By Team Business For Home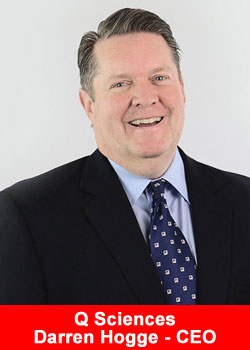 MountainWest Capital Network (MWCN) recently released its annual list of the 100 fastest growing companies in Utah.
Q Sciences was recognized as one of 16 Emerging Elite for 2015. Rankings for the Emerging Elite and the top 100 will be announced at an awards event on Nov. 3 at the Grand America Hotel in Salt Lake City, Utah.
"What an amazing honor to be recognized as one of the Emerging Elite for 2015 by such a prestigious organization," said Daren Hogge, Founder, President, and CEO of Q Sciences. "Utah has one of the fastest growing economies in the United States and to be acknowledged this way shows what an incredible job our leaders, corporate staff, and IBOs are doing to make Q Sciences great."
This isn't the first time Q Sciences has been acknowledged for it's exponential growth.
Businessforhome.org, a website dedicated to direct selling facts, figures, and MLM news, released its list of the 100 Solid Top MLM Companies earlier this year, with Q Sciences among those recognized. In just its third year of operation, Q Sciences has seen incredible growth month after month and is confident and excited about what the future holds.
"Being recognized as an emerging company means we are on the map, which is not a surprise considering our innovative products and emerging IBO leadership," added Marc Wilson, Founder and Executive Managing Director of Q Sciences.
"This is not only a great opportunity to celebrate what we have accomplished as a company, but also a chance to set even loftier goals for the future."
About Q Sciences
Q Sciences is a Utah-based wellness company dedicated to its customers, Independent Business Owners, and employees. Built on a foundation of proven science, Q Sciences' mission is to improve the quality of life through its core line of wellness supplements and innovative fitness products. More information about the company's cutting-edge products based on the most advanced science and technology is available at https://www.qsciences.com.
About MountainWest Capital Network
The MountainWest Capital Network (MWCN) is Utah's first and largest business networking organization devoted to supporting the entrepreneurial success of Utah's business owners and professionals. MountainWest Capital Network supports the free flow of information about capital formation and distribution in Utah through networking events.