ViSalus Millionaire Couple Heard 'Round the World'
September 9, 2015
By Team Business For Home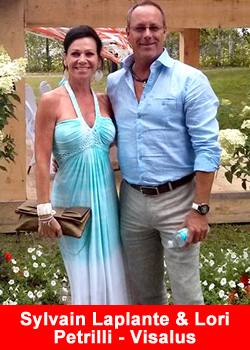 Sylvain Laplante was a financial planner for a major corporation in Canada for 26 years with a prior background in network marketing.
Although he was successful and earned a six-figure income, what Sylvain lacked was the luxury of time—to fulfill personal goals and make memories with friends and family. Work and other professional commitments persistently pulled Sylvain in different directions, leaving he and Lori Parent feeling drained and dissatisfied.
"I have always been a high achiever," says Sylvain. "But eventually my work consumed all my time. I felt as though I was missing out on my own life."
Meeting Vi Millionaire and Royal Ambassador Lori Petrilli in 2011 was a pivotal moment for Sylvain. Inspired by the Vi mission to transform Life, Health and Prosperity across the globe, Sylvain left the financial industry to become a Promoter with Lori Parent following his lead.
The two quickly became pioneers in the Quebec province, reaching the 1-Star Ambassador rank within just 41 days. By the time the couple hit their year anniversary with the company, they'd achieved 5-Star Ambassador. Lori didn't have any experience in network marketing, but she trusted in Vi's business model, leaders and successful Promoters who had come before Sylvain and her. It was a leap of faith worth over $2 million four years later.
"We are successful because we Challenge everyone we meet within five minutes of meeting," Sylvain laughs then turns serious. "More importantly, we truly believe we can make a huge impact on anyone's health and finances. We have experienced all the rewards Vi has to offer. It's only natural for us to want to share those benefits with others."
The couple has spread Vi's mission among thousands the world over. In 2014, Sylvain and Lori made a big move. They bought a new home in West Palm Beach, Florida and opened up their United States market to supplement the four countries they had already penetrated including Spain, Italy, Poland and Germany.
"We have made friends all over the world," says Lori, adding, "Authentic relationship building is key to success this business. Even after four years, we feel as though we are just getting started—there are so many more people whose lives we can touch."
About ViSalus
ViSalus, Inc. is a healthy lifestyle company committed to transforming Life, Health and Prosperity around the world by creating meaningful connections, supporting physical transformations, and promoting entrepreneurial freedom. ViSalus offers its products in North America under the ViSalus® brand and in Europe under the Vi™ brand. For more info, visit Vi.com