Barefoot Books Cuts UK Operations
October 25, 2015
By Team Business For Home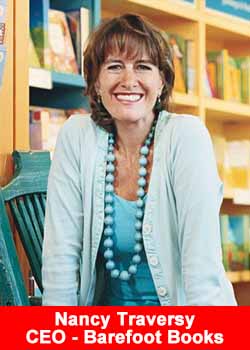 Barefoot Books is reducing its number of UK titles, closing its Oxford bookshop and putting a stop to its ambassador programme, the publisher's co-founder has confirmed.
Tessa Strickland, who is also editor-in-chief, said the company has decided to focus on its core business, which is "publishing multi-cultural picture books". The Oxford studio, which consists of a bookshop and events space, was "somewhat of a time-consuming distraction", she said.
The publisher has also let go of its UK-based ambassadors – freelance booksellers, working for themselves and selling to the public – although Strickland did not say how many people were involved with the programme.
An email CEO Nancy Traversy sent to the ambassadors in June, seen by The Bookseller, said Barefoot Books made the decision after a period of "soul-searching".
"Following a tremendous amount of soul searching, and with a great deal of sadness, we have taken the extremely difficult decision to close down Barefoot Books in the UK," she said. "Our Oxford Studio will remain open until 30th November 2015 and our European Ambassador Programme will continue until 31st August 2015. Beginning in 2016, we will no longer be supplying our UK trade partners. Our North American business will not be affected."
Another email Traversy sent to former ambassadors in September said trade partners in the UK will from next year be able to order a "reduced selection" of titles through Littlehampton Book Services (LBS).
A notice on the company's website says: "Farewell and thank-you. All European sales end 6th December 2015. Thank-you for being part of our story. To show our appreciation, we're offering deep discounts on all our remaining items to you, our European community."
One ambassador, who managed a team of other freelance booksellers, told The Bookseller: "They pulled the plug on us in the summer. They gave us the news on the 11th June and shut us down," they said. "It was a shabby way to treat us. We had some amazing people on my team and we weren't given any opportunity to turn things around. We were constantly told it's your business, do what you like, but it's only your own business for as long as they allow it to be."
Around two years ago the publisher said it would not allow its titles to be sold by Amazon, because we believe our future success lies in growing our network of independent ambassador distributors—a community where personal connections matter, where we can bring our books to life for families, and where we can stay true to the values that have defined our business since we started running Barefoot from our homes 20 years ago.
The company's books now appear to be listed on Amazon. However, Strickland told The Bookseller: We have not supplied Amazon for the past two years but we cannot prevent them hoovering up our data from Nielsen and ordering from wholesalers. We do not participate in any Amazon promotions.