DubLi Network Launches In Brazil
October 14, 2015
By Team Business For Home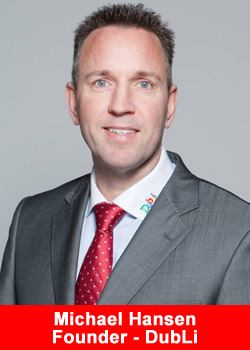 DubLi Network, the world's largest e-commerce direct selling company through its Cash Back shopping platform, DubLi.com, today announced the launch of its operations in Brazil, marking the company's official entrance into the South American market. The incorporated entity will operate as DubLi E-Commerce Ltda.
"With the largest economy in South America, a booming ecommerce industry, and one of the top five direct selling markets worldwide, Brazil has significant potential for direct selling companies today and is an important and natural place for DubLi Network," said Michael Hansen, Founder and Executive Vice President of Business Development of DubLi.
"By harnessing the Internet to offer e-business network marketing opportunities to entrepreneurs around the globe, DubLi has been able to scale and grow quickly in new markets. We are pleased to support current and prospective independent Business Associates in Latin America and see a promising future for this important, growing region of the world."
DubLi Network is a sophisticated, ecommerce network marketing company based on Cash Back shopping and travel, and the global leader in providing e-business network marketing opportunities to Independent Business Associates in almost 100 countries.
DubLi Network offers Business Associates an opportunity earn an income by marketing its online Cash Back shopping portal and selling premium memberships through DubLi.com. For more information, visit www.dublinetwork.com.
In a related announcement, DubLi Network announced today that its parent company, Ominto, Inc., has also incorporated in Brazil as Ominto E-Commerce Ltda.
About DubLi.com
DubLi.com is a global leader in online shopping and Cash Back rewards to customers worldwide. DubLi is emerging as a leading e-commerce platform offered through network marketing, currently serving customers in more than 120 countries. E-shoppers can browse through different categories, which feature international and local brands, travel, coupons, discounts and vouchers.
DubLi has adapted its multilingual and multi-regional e-commerce platform to serve 12 international markets in local language and currency to strengthen its global e-commerce presence and encourage sales in its countries of operation. Depending on the market, DubLi.com features the world's most popular brands including Amazon.in, Walmart, Nike, Hotels.com, Zalando, Groupon and Expedia.
Since its founding by Michael Hansen in 2003, DubLi has offered entrepreneurs the opportunity to create their own distributor organization by joining the direct sales company, DubLi Network (dublinetwork.com). The global network of independent distributors generates traffic and the resulting sales to DubLi.com as well as markets a variety of memberships. DubLi and DubLi Network are subsidiaries of Ominto, Inc. and are headquartered in Seattle, Washington.