Hai-O Business Slows Down
October 15, 2015
By Team Business For Home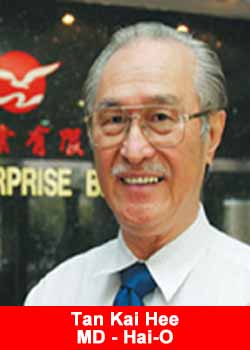 Facing escalating costs and slower domestic consumer demand, Hai-O Enterprise Bhd seeks to grow its business in cooperation with partners in China via new investments, according to managing director Tan Kai Hee.
A new venture entails the opening of a traditional Chinese medicine (TCM) clinic in Malaysia to treat diabetes patients. This new business segment is the result of a joint venture with a Chinese health food operator in Chengdu, the capital of Sichuan province in southwest China.
"Our partners in China are keen to invest, as they see the current economic slowdown as an opportunity to expand. We also intend to work with prominent TCM operators in China so that their technology and knowledge base can be transferred to Malaysia," he told reporters following Hai-O's annual general meeting (AGM) yesterday.
According to Tan, the first clinic is expected to commence operations by the end of this year in Kuala Lumpur with an estimated initial investment of between RM 2 mil (approx $481,000) and RM 5 mil ($1.2 mil)
"We will consider opening branches if the response is positive," he said.
Additionally, the company has worked towards reducing its costs.
Unlike its peers in the direct selling business which have substantial exposure overseas, Hai-O's revenue is mainly derived from domestic sales. However, its cost of import has increased in line with the ringgit's weakening this year.
"For example, the majority of our suppliers in China have agreed to settle transactions in yuan. This helps mitigate the risks of the ringgit weakening further," added Tan.
The ringgit's slump resulted in the reduction of Hai-O's gross profit margins by up to 2% this year, according to its chief financial officer Hew Von Kin.
About 40% of its total purchase was for imported goods, which was previously settled in US dollars. The close relationship shared with Hai-O's Chinese partners made switching to the yuan a more sensible choice, said Tan.
For its direct selling business, the company experienced a sharp uptick in sales volume prior to the goods and services tax (GST) being implemented on April 1, but sales have slowed down since.
"Since the GST implementation, sales figures have come down. However, the impact has not been as adverse as we had anticipated. At the same time, the GST has been absorbed by the company as well as being passed down to customers."
Tan added that Hai-O's core distribution network had continued to grow this year, with between 3,000 and 4,000 new members joining monthly.
During the AGM, the company informed shareholders that it would solely utilise internally generated funds to undertake any business expansion over the coming year.
Thanks to its large cash reserves of above RM100mil, the group is in a net cash position and effectively has zero gearing.
"As a major part of our business is carried out on a cash basis and our business model is not capital-intensive, we are comfortable with a low gearing and will continue to rely on internal funds," said Tan.
On dividends, Tan said the group intended to maintain its historically high dividend payouts despite the challenging operating environment.
For its 2015 financial year ended April 30, Hai-O reported a net profit of RM 30.42 mil from RM 239.85 mil in revenue.