Keeping Brand Consistency In Direct Sales
October 8, 2015
By Team Business For Home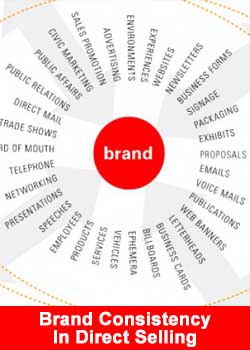 In the early 1900s, the North American direct selling industry had but one poster child: Avon Products. Founded in 1886 by a New York door-to-door book salesman, Avon is currently the fifth-largest beauty company in the world and the second-largest direct selling enterprise, with close to six million representatives worldwide and US$8.6?billion in annual sales in 2014. It's one of the most powerful brands on the planet.
Although Avon cosmetics may no longer resonate with many North American women, direct selling as a business model remains as strong as ever. As evidenced by the resurgence of 1980s brands like Pampered Chef, Herbalife and Nu Skin Enterprises, and the arrival of Canadian enterprises such as Steeped Tea, Fifth Avenue Collection and Peekaboo Beans, it's clear the idea of selling products right in the living rooms and kitchens of your consumers is an enduring one. But for many direct sales companies, the challenge lies not in growing sales or enlisting more consultants but in maintaining the consistency and vision of their brand as it filters through a network of independent sellers.
Ask Janice Gerol, vice-president of international business operations at Pampered Chef (which has 60,000 consultants in North America), and she'll tell you that brand vision has to begin with the products. Gerol has over 30 years of experience in direct selling, having started as a consultant before Pampered Chef hired her to open its Canadian office in 1996.
"We would not introduce a product that doesn't fit our philosophy and our criteria just because we could make money," she says. Pampered Chef spends time testing quality products before putting them into the market, a process that Gerol says the company cannot afford to compromise by churning out poorly designed goods.
Once you have a product that speaks for the company, you need a network of sales agents who can speak for it.
"You have consultants coming from all aspects of life, so aligning your value system can be difficult," explains Traci Costa, founder of Peekaboo Beans, who says she has at times struggled to co-ordinate the company culture and message she wants to send to her 700-plus consultants across Canada.
To help develop a consistent brand experience, Costa prepared training materials, and wrote down and shared the company values and product information through Peekaboo Beans' online training portal. She also conducts multiple training calls every year with consultants who are breaking sales records. The plan is to motivate these company leaders so they can act as ambassadors for the brand while coaching their own local teams of sellers to achieve better results.
Gerol, who's familiar with many direct selling companies in Canada, says the best companies offer huge amounts of support in multiple forms, such as online training, weekly meetings, conference calls, emails and newsletters. Gerol believes one of the reasons direct selling has resonated with a new generation of workers is because it offers more control over one's job.
"I think millennials have discovered that with a direct selling career, they can create a lifestyle that doesn't require them to work Monday to Friday, nine to five," she says. "It offers people great flexibility and the freedom to choose how they want to work."
But while it's up to the consultants to build their own businesses, it's up to the owners to provide everything they need to ensure they're building those business in the right direction.
This article is from the October 2015 issue of Canadian Business.