Life Matters Names Matt Morrow As Vice President Of Sales
October 13, 2015
By Team Business For Home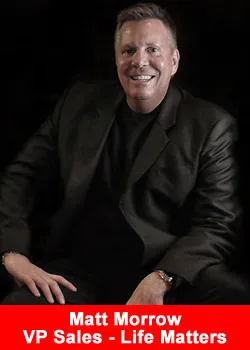 Life Matters recently announced Matt Morrow as their Vice President of Sales. Matt has 29 years of experience in the profession and is a Top Network Marketing leader, making him a One in a Million kind of sales leader. Matt is loved and respected by the thousands of people whose lives he has touched.
His profound sense of humor and deep wisdom about human nature and the Network Marketing profession are gifts that make him a perfect fit to join the corporate team at Life Matters. As the VP of Sales, Matt will be inspiring and supporting all the teams in North America.
Richard Bliss Brooke, Owner and Chief Visionary Officer stated:
I have known and been inspired by Matt Morrow for over 20 years. He is one of the very few who not only has all the rich distinctions of our profession and has built empires with them, but his heart to serve others is huge. I am grateful and so very excited to have him on our team.
Matt is a brilliant sales strategist and holds a degree in economics from UC Santa Barbara. He is a living example of someone who has taken the Network Marketing opportunity and used it to fulfill his dreams of time and money freedom. He is passionate about helping others do the same.
Matt is excited to play a key role in growing Life Matters and says:
"I am so honored to come to work with industry icon Richard Brooke and his team. I absolutely love the team culture and product philosophy at Life Matters. This is a hidden gem that will not be hidden for long!"
About Life Matters
Life Matters is owned by Richard and Kimmy Brooke, veterans of the Network Marketing industry, and is located in Coeur d'Alene, Idaho, USA. Life Matters offers wellness and nutritional products that matter:
Life Shotz, a potent, daily nutritional drink? LSVIBE, a vegan meal replacement shake? Mind, an elite cognitive nutritional supplement? and Motion, a supplement that supports joint and total body health backed by six Harvard studies. To learn more, visit www.lifematters.net.