Malaysia's Elken Wins Two Awards
October 20, 2015
By Team Business For Home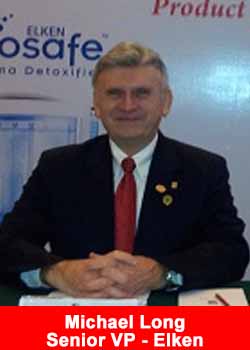 Malaysian direct selling company Elken has been honored with two awards, the 2015 Frost & Sullivan Asia Pacific Home Water Filter Customer Service Leadership and Product Line Strategy Leadership Awards.
The awards were presented to Elken at the 2015 Frost & Sullivan Asia Pacific Best Practices Awards banquet, held at the Conrad Centennial Singapore yesterday.
Ms. Janice Wung, Industry Analyst, Energy & Environment Practice, Asia Pacific at Frost & Sullivan said that Elken has positioned itself competitively with the various market strategies and organized channels in place.
On top of its excelling position in customer service leadership, Elken has ensured continuous emphasis on customer value optimization through its product excellence, she added.
Ms. Wung also said that despite the highly fragmented industry, Elken has outperformed its competitors in terms of price and performance value through the provision of comprehensive services to customers throughout the life cycle of its home water filter products.
Its remarkable efforts in service timeliness, emphasis on customer feedback, and investments on technologies, are the defining factors of Elken's strong customer service experience leadership in the industry, she said.
She also said that Elken's strong foothold in the market can be primarily attributed to the company's impressive product range at various price points.
The company's significant focus on product line development allows Elken to secure strong growth and successful market expansion, particularly in developing country markets. This is likely to translate into a bigger business footprint in the near future, Ms. Wung added.
Mr. Michael R. Long, Senior Vice President – Product & Research Director at Elken said the company is honored to receive the double awards for the fourth consecutive year from Frost & Sullivan.
I would like to dedicate these two awards to all our employees, who have worked very hard in order for us to have this achievement, he added.
The Frost & Sullivan Asia Pacific Best Practice awards have identified and honored best-in-class companies that have demonstrated excellence in their respective industries.
The recipients of the 2015 Frost & Sullivan Asia Pacific Best Practices Awards were identified based on an in-depth research conducted by Frost & Sullivan's analysts. The award categories offered each year are carefully reviewed and evaluated to reflect the current market landscape and include new emerging trends.
The short-listed companies were evaluated on a variety of actual market performance indicators which include revenue growth; market share and growth in market share; leadership in product innovation; marketing strategy and business development strategy.